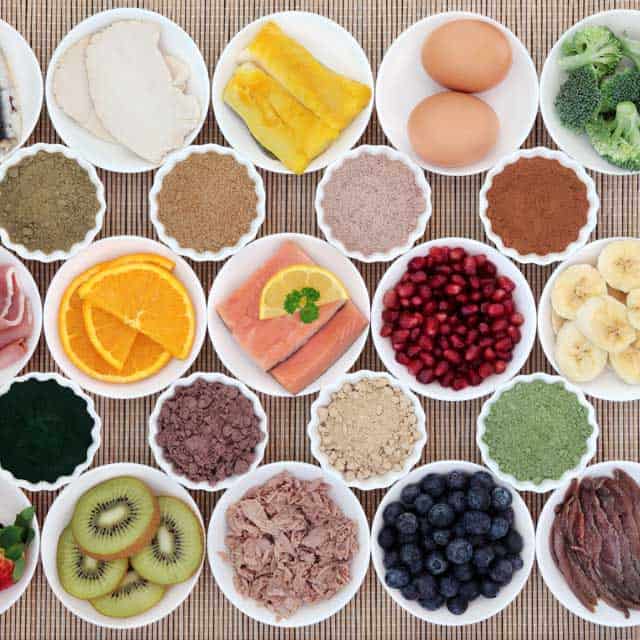 Having a stocked Paleo pantry is critical when taking on a primal diet. Being prepared with Paleo ingredients means you're more likely to stay on track with a commitment to your new diet and you'll be ready to whip up a batch of homemade coconut-date bars or Paleo chocolate chip cookies at any moment! And really, the Paleo pantry looks an awful lot like the pantry you grew up with: flours, sugars, nuts, oils, and other dry goods like unsweetened, shredded coconut or cocoa powder. The only difference is that a paleo pantry avoids refined sugars and flours, legumes, dairy and vegetable oils. It may seem a bit overwhelming if you're new to the diet, but we're here to help with our guide to stocking a Paleo pantry at Sprouts Farmers Market.
Fats
One of the biggest benefits of a Paleo diet is the focus on healthy fats, so making sure you're loaded with plenty of great options is key in stocking a Paleo pantry.
Coconut oil. Unrefined coconut oil will have a light coconutty taste; refined coconut oil is tasteless. Both are solid at room temperature and are fantastic for cooking and baking.
Liquid coconut oil. This tasteless oil is fantastic for salad dressings and homemade mayonnaise.
Avocado oil. With a smoke point of 520ºF, avocado oil is another mild oil great for salad dressings, homemade mayo and high-temperature cooking.
Ghee. Ghee is essentially clarified butter, free of lactose and fantastic for adding a bit of a buttery taste to paleo dishes. It's especially wonderful in Indian cooking and in traditional butter-based sauces like hollandaise.
Olive oil. A pantry staple, olive oil is totally Paleo and so versatile. Best for no-cook dishes or low-temperature cooking.
Palm shortening. Best in moderation, palm shortening can be a great replacement for butter in Paleo baked goods.
Sweeteners
Although refined sugars, even brown sugar and brown rice syrup, are out, there's a delicious variety of Paleo sweeteners you'll want to keep on hand.
Coconut sugar. Best for replacing white or brown sugar, coconut sugar is very versatile, has a rich taste, and comes powdered.
Maple syrup. Not just for drizzling on Paleo pancakes, maple syrup is a fantastic sweetener and popular in many Paleo recipes.
Raw honey. One of the favorite paleo sweeteners, raw honey has a relatively low glycemic load and is loved for its medicinal properties. It comes in liquid and solid form, making it great for baking and other treats.
Dates. Popular in no-bake recipes and crusts, dates are great to keep on hand for Paleo sweets and baking, as well as homemade snack bars.
Flours
Intimidated by removing white flour from your staples? No need to be! Thanks to the variety of Paleo flours at Sprouts Farmers Markets and the wealth of recipes available at Sprouts.com, you'll be a Paleo baking pro in a snap. In almost every recipe, you'll want to blend multiple Paleo flours to best mimic white flour, so make sure you stock up on a few products.
Almond flour. Very often the bulk of Paleo baking recipes, you'll want to keep plenty of almond flour on hand at all times.
Arrowroot. The most popular Paleo thickener, you can liken arrowroot to cornstarch. It's used frequently in recipes to add a softness to an almond flour blend.
Tapioca starch. Another thickener, tapioca starch often becomes gummy when heated with liquid, making it helpful in savory cheese-like recipes and other baking recipes. Tapioca starch also adds a softness to almond flour recipes.
Bob's Red Mill Paleo Baking Flour. Bob's Red Mill makes it easy as pie to make, well, Paleo pie! Their Paleo baking flour is a 1:1 flour replacement and is totally Paleo.
Condiments
Having a tasty variety of Paleo condiments on hand can make dinner a breeze: keep the main course simple and let the condiments pique your taste buds! These condiments also serve as a versatile base for other sauces and dips.
Coconut oil or avocado oil mayonnaise. While making your own mayo is easy, having a jar of coconut oil or avocado oil mayonnaise on hand can be a lifesaver. You can make Caesar dressing, chipotle aioli, ranch dressing, and so many more with this mayo.
Dijon mustard. Perfect for adding a bit of kick, brightness, and richness to recipes, Annie's Dijon Mustard is alcohol—and sugar-free, making it a great Paleo pantry addition.
Coconut aminos. Naturally sweet and salty, coconut aminos are a must for adding a healthy sweetness to savory recipes, like Asian lettuce wraps, BBQ sauce, and sesame chicken.
Hot sauce. Who doesn't love a spicy kick? Sprouts Farmers Market has a variety of sugar-free Paleo hot sauces—you'll definitely want to keep a bottle in the pantry!
Salsa. A quick way to add flavor and veggies to any meal, a jar of sugar-free salsa should always be in your pantry. Sprouts Fire Roasted Salsa is our favorite!
Marinara. Another easy way to get dinner on the table fast, try Sprouts Italian Herb Pasta Sauce for a sugar-free marinara that's full of flavor.
Cheryl Malik is the blogger behind 40aprons.com
---
---