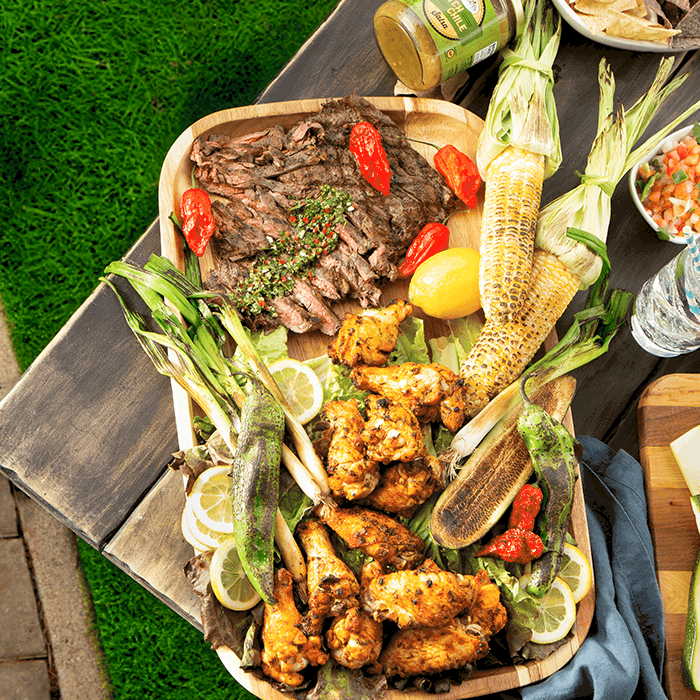 If you're like us, as soon as the weather warms up, we get our grills fired up. It's the perfect time to enjoy some smoky, saucy, messy-finger goodness.
However, if you haven't had a lot of experience using the grill, you may feel a little intimidated, but fear not! Follow these helpful tips to go from being a grillin' rookie to a grillin' guru in no time.
Grill Better with the Best!
Any great grill-out starts by picking the right cuts of meat. Sprouts carries everything you need for flavorful grilling from 100% grass-fed beef to organic, air-chilled chicken. Our USDA Choice beef comes from pure, heritage bred cattle raised without added hormones, especially for Sprouts customers. We're proud to source from suppliers we trust to provide you and your family high-quality meat from small suppliers and family ranchers. Ready to get your grill on? We recommend the following cuts of meats:
Steak: New York strip, rib-eye, top sirloin, filet mignon, T-bone or porterhouse
Pork: Center-cut pork chops, boneless pork chops or pork tenderloin
Chicken: Chicken breast or boneless, skinless chicken thighs
Tips for Marinades and Dry-rubs
Marinades and dry rubs are a great way to add extra flavor to your grill-out, but it's important that you use them properly. When grilling with marinades we recommend using chicken or veggies. For vinegar-based marinades, be sure to marinate your chicken for no longer than one hour—if you're not careful, the vinegar can actually make the chicken tough as opposed to tender. For marinades that are oil-based, feel free to let the chicken sit overnight. When grilling with dry rubs, like our Butcher Shop dry rubs, we recommend using steaks or pork.
Grill Temperature for Chicken and Meats
The easiest way to take the guesswork out of grilling is to use a meat thermometer—it also ensures your meats are cooked to perfection! Below are the appropriate internal grilling temperatures for your favorite meats:
Chicken: 165°F
Beef and Lamb: 125°F (rare), 130°–135°F (medium-rare), 135°–140°F (medium), 140°–150°F (medium-well), 155°F (well-done)
Ground Beef or Lamb: 160°F
Pork: 145°F (medium-rare), 150°F (medium), 160°F (well-done)
Ground Pork: 160°F
Maple and Cedar Planks for Grilling
Up your grilling game and pleasantly surprise your guests by infusing your favorite meats and veggies with the subtle, smoky flavors of maple and cedar by using our easy-to-use Sprouts Grilling Planks. Simply soak the grilling plank in water for at least one hour, place seasoned foods on the plank and set directly on grill or in the oven at 350°F. Then enjoy the fruits of your labor!
---