Farm-fresh Produce
Sprouts Farmers Market partners with local farmers across the country to bring goodness into each of our communities. Sourcing local produce from family-run farms like Maywood Farms and Viva Tierra Organics allows us to offer you a variety of unique items every season. We strive to choose farms that promote healthy, clean farming practices in Northern California to bring you and your family the best produce that's full of goodness!
G&M Farms, Inc.
G&M Farms, Inc. is a fourth-generation farming operation located in Kingsburg, California! Established in 1999 by Greg and Monica Willems, Farm to Table Berries was one of the first growers to farm blueberries and blackberries in the Central Valley. Through innovation and sustainable farming practices, they've become a leader in the berry industry with one of the largest blueberry nurseries on the West Coast. They're proud to test, trial and select only the best berries for you and your family to enjoy.
---
California Avocados
Taste the California difference with creamy, farm-fresh California Avocados! The rich, coastal soil and warm, sunny days provide optimal growing conditions for more than 3000 avocado growers across the state. We work with local growers and know exactly where exactly where they are, so you can enjoy peak-of-season avocados for a perfect slice, every time.
---
George Perry and Sons Inc.
George Perry and Sons Inc. is one of the largest shippers and handlers of watermelons, pumpkins and squash in Northern California. Located in Manteca, California, this family-owned farm was founded by Delphino Perry in 1925 when he began buying watermelons and pumpkins from local growers to fulfill the overwhelming demand in the community. Today, the Perry family has not only increased their own farming practices but have built relationships with hundreds of other local growers to supply farm-fresh watermelons and pumpkins 365 days year to all their customers.
---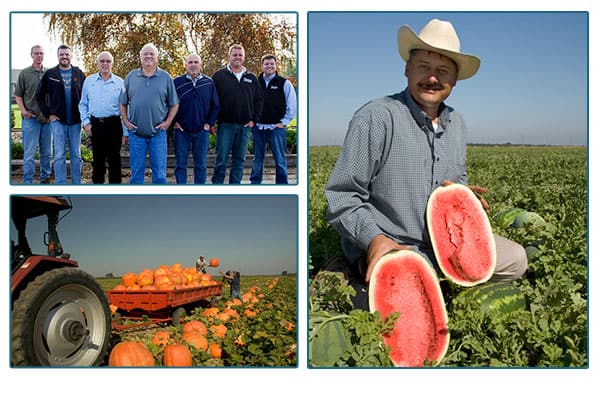 Van Groningen & Sons, Inc.
Van Groningen & Sons, Inc. roots run deep in California with a farming history dating all the way back to 1922. Henry Van Groningen Sr. had a passion for growing farm-fresh, high-quality produce that was passed down from generation to generation, establishing this family-owned farm. From sweet and juicy watermelons in the summer to falls best pumpkins, Van Groningen & Sons is proud to grow fresh, local produce for you to enjoy every season.
---
A&A Organic Farms
A&A Organic Farms was founded in 2002 by Andy and Aimee Martin who had a passion for supporting local, organic growers in the Northern California area. A&A Organic Farms sells, markets, packages and distributes a variety of organic produce like strawberries, celery, tomatoes, broccoli and so much more! In addition to providing farm-fresh produce, A&A Organic Farms is committed to protecting the environment with sustainable, 100% recycled packaging.
---
Peri & Sons Farms
Peri & Sons Farms is a fourth-generation family farm in Firebaugh, California with over 100 years of farming experience. This local farm produces over 500 million pounds of the freshest, organic white, yellow, red and sweet onions each year! Peri & Sons Farms is committed to growing high-quality produce with earth-friendly, sustainable farming practices. Their strict standards allowed them to become the first domestic onion farm to achieve a Sustainably Grown Certification in 2016.
---
Capay Organics Farm
Capay Organics Farm is a local California farm that grows, packs and ships a variety of fresh, delicious produce! With over 40 years of experience in organic farming, Capay Organics Farm is dedicated to the preservation and wellbeing of the land and communities it serves. They're proud to grow high-quality heirloom tomatoes, juicy melons and organic Candystripe Figs in Capay, California for you and your family to enjoy.
---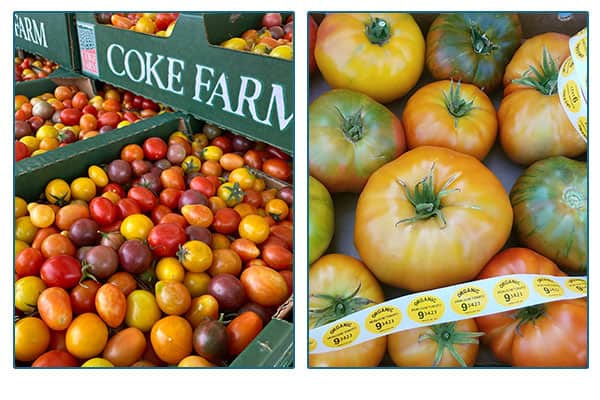 Coke Farm
Coke Farm represents a variety of local, family-owned farms throughout California to bring you the freshest, organic produce around! Founder Dale Coke started with a quarter-acre strawberry field in 1980 and quickly realized the need for organic farming in the area. Today, Coke Farm provides the community with nutritious organic produce from juicy strawberries and tomatoes to summer squash and root vegetables.
---
Queen Victoria Farms
Located in Salinas Valley, Queen Victoria Farms grows fresh leafy greens and mixed vegetables for you and your family to enjoy! Operating under Ippolito International, this family-owned, one-stop-shop manages the whole process from growing and harvesting produce to packaging and distribution; ensuring consistent, high-quality produce arrives to your table.
---
Kings River Packing
With eight generations of farming experience, Kings River Packing knows a thing or two when it comes to growing juicy, high-quality citrus! This family-owned farm was founded in 1977, but their citrus roots date back to 1866 when the Hazelton family, who owns Kings River, became the first grower of oranges in Fresno County. Today, the farm operates in a state-of-the-art facility growing delicious citrus like Shasta Mandarins, Raspberry Oranges and Cara Cara Navels.
---
A.V. Thomas Produce
A.V. Thomas Produce is the largest sweet potato and yam producer in California. Founded in 1960 in Livingston, California, this family-owned farm began growing hearty sweet potatoes on just 10 acres of land with one small packing facility. Today, A.V. Thomas Produce is proud to bring you and your family a variety of unique organic and conventional sweet potatoes like the Murasaki sweet potato, red yams and orange sweet potatoes.
---
Turlock Fruit Company
Turlock Fruit Company has been providing the juiciest varieties of melons to Northern California and the Bay Area since 1918. The Turlock Fruit Company was founded by James H. Smith over 100 years ago and is currently operated by three generations of the Smith family. Each melon is harvested at the peak of their crop, so you'll never wonder if a Turlock melon is ripe. From Cantaloupe to a unique Golden Hami, you can pick confidently knowing a melon from Turlock Fruit is ready for that perfect slice!
---