In partnership with the Environmental Working Group, Sprouts wants to share the importance of sun safety. With the right natural sunscreen, you can soak up the best parts of the sun without harming your skin.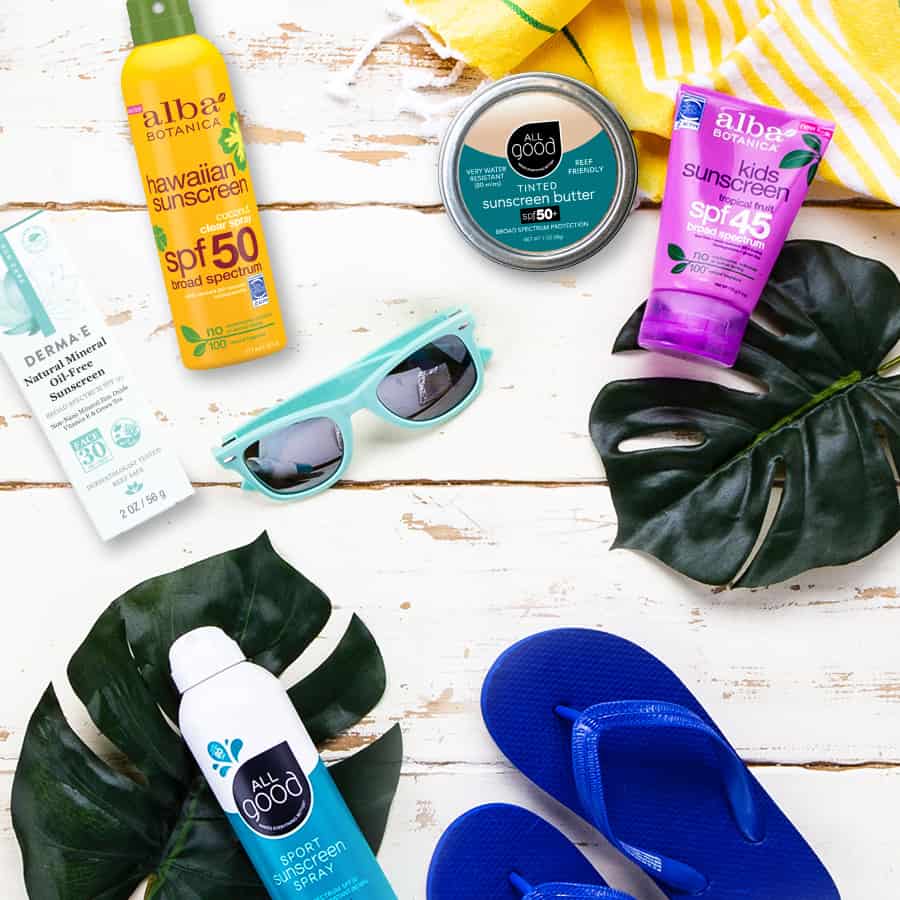 Which Sunscreen is Best?
There are so many options when searching for a sunscreen and lots of things to remember, but EWG makes it easy with quick tips and
resources.
Keep these three simple tips in your back pocket when choosing or applying your sunscreen:
Always use a cream or spray sunscreen. FDA's sunscreen rules bar sunscreen wipes and powders. Read more about why not to use sunscreen wipes or powders.
Don't combine products. Skip products that combine bug repellent with sunscreen. Bugs are typically not a problem during the hours when UV exposure peaks. Also, sunscreen may need to be reapplied more frequently than repellent, or vice versa.
Skip tanning oils. Avoid anything that contains less than a 15 SPF value. Read more about tanning oils from EWG.
Simple Ways to Protect Your Skin
Apply sunscreen 20-30 minutes before going outdoors.
Don't forget to use enough! Most adults need at least 1.5 ounces of sunscreen.
Look for broad-spectrum zinc-oxide, which blocks aging UVA rays and burning UVB rays. Read more about UVA and UVB rays here.
Help preserve our oceans and marine life by choosing a reef-safe sunscreen.

Use Lower SPF

Don't use super-high SPF products.
SPF stands for "sun protection factor" and refers only to protection against UVB radiation, which burns the skin. It has little to do with protection from sun's UVA rays, which penetrate deep into the skin, suppress the immune system, accelerate skin aging and may cause skin cancer.
High-SPF products may give people a false sense of security, tempt them to stay in the sun too long and suppressing sunburns that may increase the risk of other kinds of skin damage. The FDA is considering limiting SPF claims to 50+, as is done in other countries.
EWG recommends that consumers avoid products labeled with anything higher than SPF 50 and reapply sunscreen often, regardless of SPF.

Use Cleaner Products

EWG recommends products without oxybenzone.
Commonly used in sunscreens, the chemical oxybenzone penetrates the skin, gets into the bloodstream and acts like estrogen in the body. It can also trigger allergic reactions. Data is preliminary, but studies have found a link between higher concentrations of oxybenzone and health harms.
EWG recommends products without retinyl palmitate.
The FDA has yet to rule on the safety of retinyl palmitate in skin care products, but EWG recommends that consumers avoid sunscreens containing this chemical.
Sunscreens containing these products have been found to cause stress to living organisms in our oceans. Choosing cleaner products can help reduce the impact we leave on our coral reefs.

---

Still Not Sure?

Learn how to pick the right sunscreen for you.