by Katie Sullivan Morford, RDN, founder of Mom's Kitchen Handbook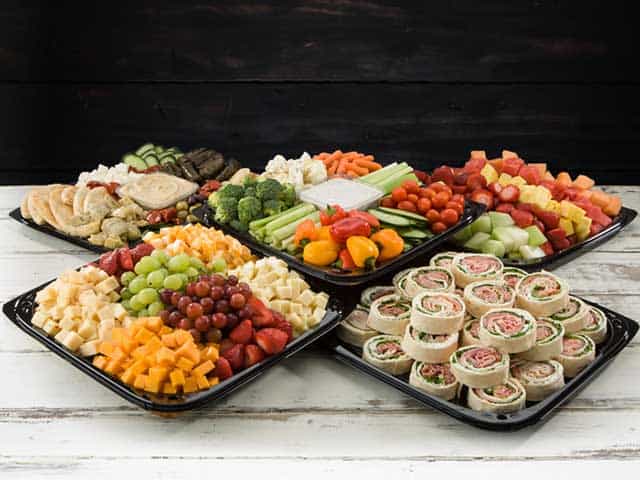 Graduation is nearly here. If you've got a high school, college or even grad student about to collect a diploma, festivities are in order. It can be tricky to plan and execute, since graduation season can feel overwhelmingly busy. Just know that there is no one-size-fits-all way to celebrate. Here are five fun graduation party food ideas—pick the right one for you and your graduate.
Backyard BBQ
With the weather warming up, move the party outdoors to minimize indoor chaos. It's an ideal solution for more casual gatherings. Go with ribs, burgers and dogs, making sure you have a
main dish option
for vegetarians as well. Add a few favorite salads and a platter of fresh fruit, and your job is done.
Make It Special: For dessert, arrange a make-your-own-ice-cream-sandwich bar. Set out Bakery Cookie Trays from Sprouts, a tub of vanilla ice cream, and an ice cream scooper and let everyone get to it.
Open House
If you want to invite a lot of people without a lot of work, an open house is the way to go. It can be as straightforward as putting together a few simple appetizers and setting up a bar with your favorite drinks. With Sprouts, you can make it a little more substantial with no effort by ordering Pretzel Hoagie Platters along with a Fresh Vegetable and Hummus Tray.
Make It Special: Create a signature mocktail to serve the graduates, such as pineapple/orange juice blended with fresh strawberries served over ice with little paper umbrellas for added flair.
Sit-down Dinner
For something on the more intimate side, a sit-down dinner is a pretty sweet way to celebrate. Start off with an elegant Signature Cheese Tray from Sprouts. For the entree, side and salad, poll your graduate to find out their favorite dishes. If they're off to college, these are the recipes they're going to miss!
Make It Special: Put your graphic design skills to work by printing an official menu to put at each place setting. It will make the evening feel special and doubles as graduation memorabilia.
Brunch
Depending on the timing of graduation, doing brunch can be a lively way to celebrate. If you have a signature brunch recipe, now is the time to pull it out. If not, start by settling on one main dish, ideally something you can make ahead, such as an egg casserole or
baked French toast
. Fill in from there by adding a Fresh Fruit Trays and a European Bakery Tray from Sprouts. Make it extra pretty by arranging the fruit and baked goods on your best platters (nobody needs to know they didn't come out of your own kitchen!).
Make It Special: Pick up flowers and balloons that are the colors of your graduate's soon-to-be school. It won't go unnoticed.
Potluck
If your budget is tight, consider joining forces with families of other graduates and host a potluck. Map out a game plan, dividing up main dishes, sides, salads, desserts and beverages so you have a nice balance on the table. Keep clean up easy (and eco-friendly) by using the compostable paper goods sold at Sprouts.
Make It Special: Gather or make a few silly props, masks, and signs, and set up a make-shift photo booth. If you can get your hands on an instant camera, everyone goes home with a memento from the day.
Instagram Story Giveaway
Take a peek at our Instagram Story on Wednesday, 5/8 for a chance to win Katie's cookbook! No purchase necessary to enter or win. The giveaway is open to legal residents of the United States who are 18 years of age or older.
Official rules.
---
Meet Our Food Blogger
Katie Sullivan Morford is a food writer, registered dietitian, and author of the recently published book PREP: The Essential College Cookbook. She has two other cookbooks, Rise & Shine: Better Breakfasts for Busy Mornings and Best Lunch Box Ever. Katie has written and developed recipes for a number of publications, including Real Simple, Family Circle, Parents, Self, the San Francisco Chronicle and the New York Times. She is also the voice behind the popular blog
Mom's Kitchen Handbook
, which features recipes, nutrition advice, and weekly meal plans for busy families. Katie has an undergraduate degree in English literature along with a Master's Degree in Clinical Nutrition from New York University. She lives in San Francisco with her husband and three daughters.