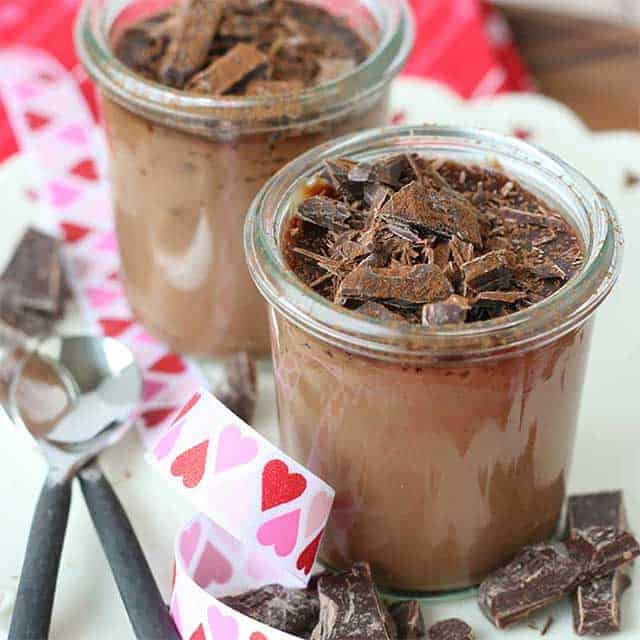 What better way to say "I love you" than making something sweet for your sweetie? Sprouts partnered with four bloggers to create dessert recipes for two.
Chocolate Pots de Crème for Two
Recipe By:
Glorious Treats
This ultra-rich chocolate treat is perfect to share with someone you love!
Ingredients:
6 Tbsp. Heavy cream
6 Tbsp. Milk
2 Tbsp. Sprouts Sugar
2 oz. Sprouts Colombian Dark Chocolate (65% cocoa), chopped
1/4 tsp. Salt
1/4 tsp. Sprouts Vanilla Extract
2 Egg yolks
Instructions:
Choose 2 small jars or ramekins for the dessert. The dishes need to be oven safe and need to be able to hold 3/4 of a cup of liquid.
Preheat oven to 300°F and place a baking dish (such as a loaf pan) in the oven with enough hot water to mostly come up the sides of whatever sized dish you'll be serving the dessert in.
In a small saucepan, heat heavy cream, milk and sugar until the mixture is hot (but not boiling) and the sugar has dissolved.
Turn off heat under the pan and add chopped chocolate to the hot milk mixture. Allow chocolate to sit in the hot milk undisturbed about a minute, then stir to combine and until fully melted. Add salt and vanilla.
In a small bowl, add egg yolks and whisk (or stir with a fork). Add a tablespoon of the hot chocolate mixture to the egg and stir well. Continue adding a tablespoon or so at a time until you've added at least 5–6 tablespoons and the egg mixture is warm. Add entire egg mixture to the saucepan and turn the stove back on to medium-low.
Heat, while slowly whisking and cook for 2–3 minutes or until the mixture has thickened to almost the consistency of pudding. Immediately remove from heat and pour into your two jars or ramekins.
Retrieve the pan of hot water from the oven, place jars in the center and return to the oven to bake for 20–25 minutes.
Remove desserts from the oven when the edges of the dessert are set, but the center is still quite soft (the center should jiggle a bit, but not appear fully liquid).
Cool desserts on a cooling rack for 15 minutes or more, and then move to the refrigerator to chill and firm up, at least 2–3 hours.
Serve well chilled. Desserts may be made up to 2 days in advance. Cover dishes in the refrigerator if chilling overnight.
---
Mixed Berry Galettes with Chocolate Crust
Recipe By:
Eat the Love
This recipe makes two individual galettes to serve for a couple. If you want, you can double the recipe and make four for a small dinner party. Be sure to chill the crust dough an hour before you roll it out, or make the crust the day before and let it chill overnight in the fridge. It makes rolling out the dough much easier to work with.
Ingredients:
Crust Dough
3/4 cup Sprouts All-Purpose Flour
1/4 cup Sprouts Organic Cocoa Powder
2 Tbsp. Sprouts Granulated Sugar
1/4 tsp. Kosher salt
1/4 cup Sprouts Unsalted Butter, cold
1/2 cup Vegetable shortening
5–6 Tbsp. Ice-cold water
Filling
1/2 cup Blueberries
1/2 cup Blackberries
1/2 cup Strawberries, green stems removed, berries sliced in half
2 Tbsp. Sprouts Granulated Sugar
1 Tbsp. Sprouts All-Purpose Flour
2 tsp. Fresh-squeezed lemon juice
1 tsp. Sprouts Vanilla Extract
1/2 tsp. Lemon zest (about half a lemon)
To Assemble and Finish
2 Tbsp. Sprouts Organic Cocoa Powder
1 large Egg yolk
1 Tbsp. Cold water
1 Tbsp. Sprouts Granulated Sugar
Instructions:
Make the crust by placing the flour, cocoa powder, sugar and salt in a medium-sized bowl. Cut the butter into 1/2-inch pieces and add to the dry ingredients. Using your fingers, smash the butter into the dry ingredients until they are reduced to small flat pieces the size of peas. Sprinkle 5 tablespoons of water over the mixture and toss with a fork until a dough forms. Sprinkle an additional tablespoon of water and toss and massage with hand if needed. Divide into two small balls and then flatten into a disk about 4-inches wide. Wrap with plastic wrap and place in the refrigerator to chill for 1 hour or overnight.
Once the dough is chilled, preheat the oven to 350ºF. Line a rimmed baking sheet with a silicon mat or piece of parchment paper.
Place all the filling ingredients in a medium bowl and toss together with a large spatula.
Sprinkle 1/2 tablespoon of the cocoa powder over a clean surface and place one of the dough crust disks on the cocoa powder. Sprinkle 1/2 tablespoon of cocoa powder over the disk and then roll the disk out to about a rough 8-inch wide circle. Move the crust to the lined baking sheet and repeat with the second disk of dough.
Once both crusts are prepared, spoon half the berry filling in the middle of one of the crusts, leaving about 1–1 1/2 inches of crust around edge. Repeat with the second crust and the remaining filling.
Fold the crust over onto the berry filling all the way around. Repeat with the second galette. Beat the egg yolk with the water then brush over the top of the crust edge. Sprinkle 1/2 tablespoon of sugar over one of the galettes and the remaining sugar over the other galette.
Bake in the oven 40–45 minutes or until the berry filling is bubbling hot, the sugar on the galette crust has started to caramelize a bit and the edges of the galettes look dry. Let cool and serve warm, by itself or with a scoop of vanilla ice cream or whipped cream.
---
Healthy-ish Skillet Cookie
Recipe By:
Brewing Happiness
This healthy-ish skillet cookie for two is the perfect quick, easy and delicious date night dessert!
Ingredients:
Dry Ingredients:
½ cup Sprouts Whole-Wheat Flour
¼ cup Coconut sugar
½ tsp. Baking soda
1 pinch Salt
Wet Ingredients:
4 Tbsp. Vegan buttery spread, melted but not hot
2 Tbsp. Sprouts Almond Butter
2 Tbsp. Sprouts Honey
½ tsp. Sprouts Vanilla Extract
1 Sprouts Cage-Free Egg
2 oz. Sprouts Dark Chocolate (70% cocoa or higher), chopped into chunks
Sprouts Coconut Oil, for greasing skillet
Toppings:
Sea salt flakes
Sprouts Vanilla Ice Cream
Fresh cherries
Instructions:
Preheat oven to 350°F.
Add dry ingredients to a medium or large mixing bowl. Mix until well combined.
Add all wet ingredients to the dry ingredients and whisk until combined.
Gently fold dark chocolate chunks into the cookie batter.
Grease an 8 inch skillet with coconut oil, pour in the batter and bake for 14–16 minutes.
Let cool for 5 minutes before topping with sea salt, vanilla ice cream and fresh cherries.
EAT UP!
---
Red Velvet Truffle Cake
Recipe By:
Cake 'n Knife
Luscious three-layer red velvet cake with a chocolate truffle frosting is the ultimate date-night indulgence!
Ingredients:
Red Velvet Cake
2 1/4 cups Sprouts All-Purpose Flour
3/4 tsp. Sprouts Baking Soda
2 Tbsp. Sprouts Organic Cocoa Powder
1 pinch Salt
1/3 cup Sprouts Unsalted Butter, softened
1 1/2 cups Sprouts Granulated Sugar
3/4 cup Vegetable oil
3 large Sprouts Cage-Free Eggs, separated
3/4 Tbsp. Sprouts Vanilla
Red food coloring
3/4 cup Buttermilk
Chocolate Truffle Frosting:
2 3/4 cup Confectioners' sugar
1/2 cup Sprouts Organic Cocoa Powder
3 oz. Dark chocolate, melted
7 Tbsp. Sprouts Unsalted Butter, softened
6 Tbsp. Heavy whipping cream
1 tsp. Sprouts Vanilla
Garnish: homemade chocolate truffles
Instructions:
Preheat oven to 350°F.
Whisk together dry ingredients in a bowl. Set aside.
Beat butter for the cake in the bowl of a stand mixer until creamy. Add sugar and beat until creamy, approximately 2 minutes. Add in oil and beat for another 2 minutes. Add egg yolks and vanilla, beat until combined.
Add in food coloring, starting with 1 teaspoon until combined. Continue to add food coloring until the batter reaches a deep red color. I used 2–3 teaspoons to achieve this color.
Mix on low and alternate adding the dry ingredients with the buttermilk in 3 parts. Mix until each addition is just incorporated.
Whisk egg whites in a separate small bowl until thick and foamy. Fold into cake batter.
Divide cake batter into three 4-inch round cake pans, filling them approximately 2/3 of the way full.
Bake for 30–40 minutes, or until a toothpick comes out clean when inserted in the middle. Cool the cakes completely.
When ready to frost, cut the tops off the cakes to make them flat. Set aside.
To create the frosting, beat butter for frosting with an electric mixer until creamy, approximately 2 minutes. Mix on low and alternate adding the confectioners' sugar and cocoa powder with the heavy cream in 2 parts. Mix until each addition is just incorporated. Add vanilla and mix until combined.
Layer the cakes with the frosting and frost the outside of the layered cake. Top with homemade truffles in a ring around the top and the base.