Citrus Centerpiece
Use fresh citrus in an unexpected way to create a free-flowing wreath centerpiece. For added interest, incorporate homemade citrus candle holders.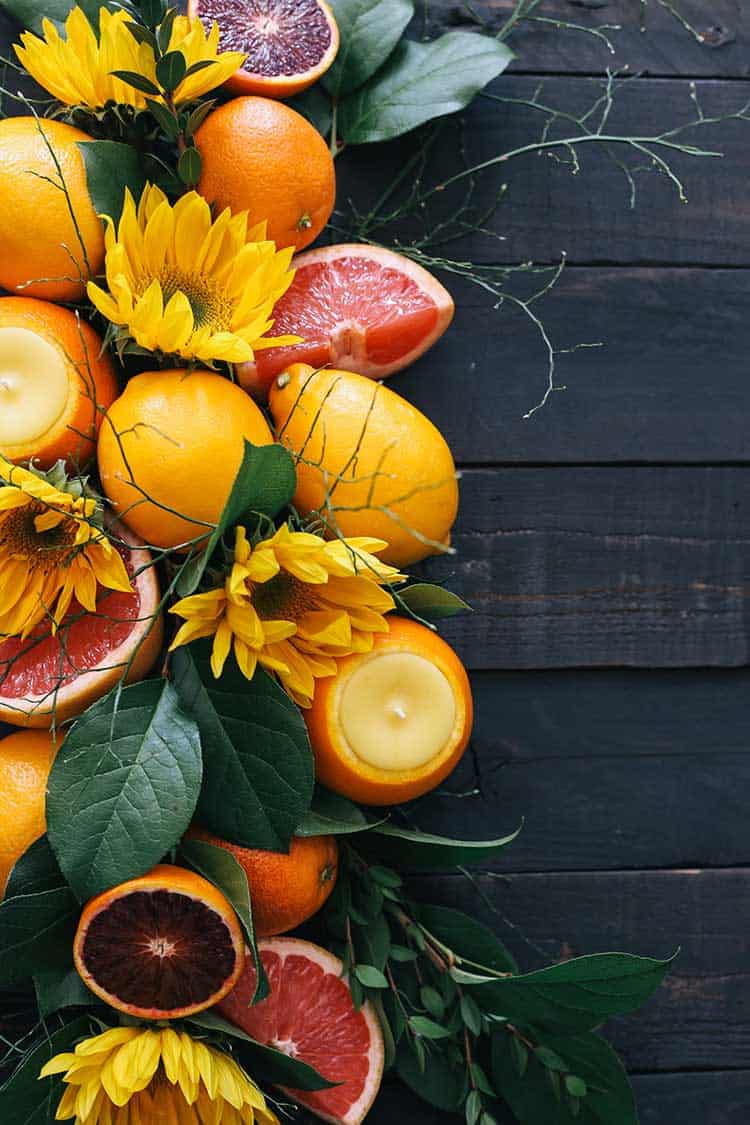 Materials:
2 bunches Mixed greens foliage

Bakers twine
Wide variety of citrus (blood oranges, pink grapefruits, Cara Cara organes, Minneola tangelos, Meyer lemons)
2 votive candles
1 bunch of Sunflowers
Instructions:
Divide the mixed greens foliage in half. Overlap the stems and secure with bakers twine. Lay on the surface where it will be displayed.

Arrange citrus to overlap the stems. Halve and quarter a few citrus to fill in gaps.

Create citrus candle holders by using a knife to cut the top off and hollow out citrus comparable to the size of votives, such as minneola tangelos. Cut a small sliver off the bottom of the citrus to create a sturdy base. Insert the votives. Add the citrus candles to the display.
Trim sunflower stems and arrange throughout the centerpiece.

Use any extra sprigs from the mixed greens foliage to add texture throughout the section of citrus.
Panna Cotta with Citrus Honey Preserve
Sweet, creamy- and citrusy! Check out Joanna's perfect, easy-to-make dessert. Prepare up to 3 days in advance to serve a crowd.
Ingredients:
Panna Cotta:
1 qt. Heavy cream
1/2 cup White sugar
1/2 Vanilla bean, split with seeds scraped
2 1/4 tsp. Unflavored powdered gelatin
3 Tbsp.Water
Citrus Honey Preserve:
1 large Meyer lemon, thinly sliced
1 cup Clover honey
1 sprig Rosemary
Toppings:
1 large Meyer lemon, thinly sliced
1 Blood orange, thinly sliced
1 Tbsp. White sugar
1/4 cup Glazed or candied pecans, roughly chopped
Rosemary and orange mint sprigs, for garnish
Instructions:
To make the panna cotta: Combine the cream, sugar, vanilla bean and seeds in a saucepan. Bring to a simmer. Remove from heat, cover and allow to steep for 15 minutes. Uncover, remove the vanilla bean and bring back to a simmer. In a bowl, mix together the gelatin with water. Remove the cream mixture from the heat and stir in the gelatin until dissolved. Divide evenly between 8 ramekins. Cool to room temperature, cover with plastic wrap and refrigerate until set, a minimum of 3 hours.
To make the preserve: Fill an airtight jar with the Meyer lemon slices, honey and rosemary. Seal with lid. Shake to ensure there are no air pockets under the fruit. Store in the refrigerator overnight. Shake occasionally to mix the juices with the honey.
To make the topping: Preheat the oven to 200 degrees F. Line a baking sheet with parchment paper. Lay the citrus to dry.
Assemble: Top each panna cotta with 1-2 tablespoons citrus honey preserve. Add a slice of each dried citrus slice. Divide the chopped pecans evenly amongst the panna cottas, and finish with rosemary and orange mint sprigs.
Zesty Ceviche
Speedy ceviche made with cooked shrimp. It is slightly sweet and tangy thanks to the Cara Cara oranges and pummelo grapefruit.
Ingredients:
1 lb. Medium cooked shrimp, tails removed
1/2 cucumber diced
1 Large jalapeno, seeded and chopped
1 Vine ripe tomato, diced
2 Tbsp. Chopped red onion
1 Avocado, seeded and diced
1 Cara Cara orange, peeled and diced
1 Pink grapefruit, peeled and diced
Juice of 1 lime
Juice of 1 Cara Cara orange
3 Tbsp. Cilantro
Instructions:
In a bowl, mix all ingredients.

Cover and refrigerate until ready to eat. Serve with chips.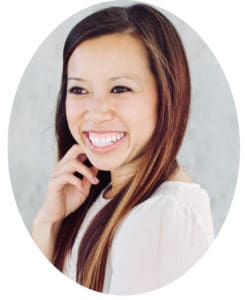 Meet the blogger: Joanna Meyers from Baked by Joanna
Food Stylist & Culinary Creative
Joanna is a commercial food stylist based in Phoenix, Arizona. Her work and recipes have been seen around the world. When she is not styling for her favorite brands, she enjoys publishing recipes and sharing her love of everything food on her self-titled blog many remember as Baked by Joanna. Her other interests include spending time with her family and staying healthy and fit.