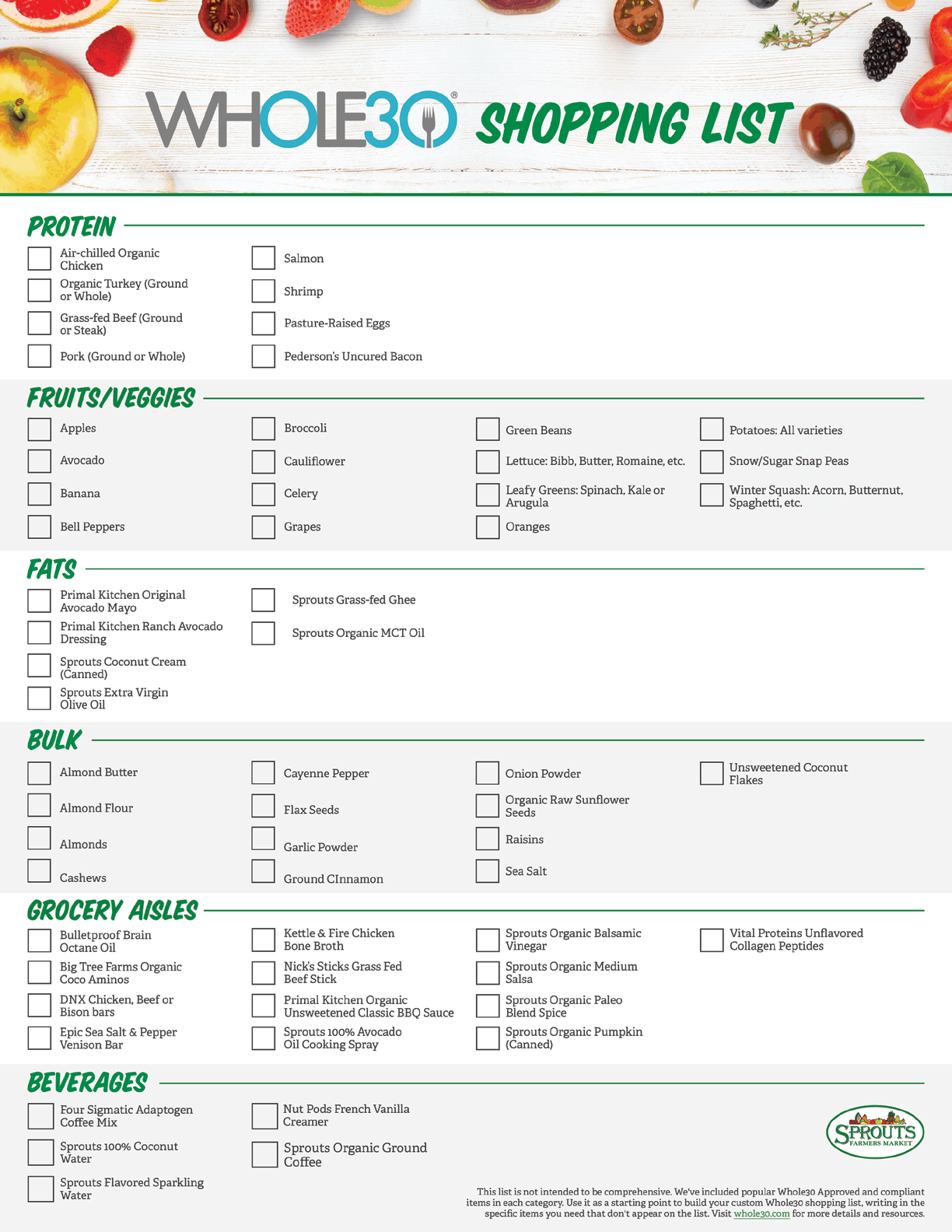 Whole30 Your Way
The Whole30®
is easy and affordable at Sprouts Farmers Market! We're your one-stop-shop for everything you need to crush your healthy living goals during the Whole30. Think of the Whole30 like pushing the reset button for your health, habits and relationship with food. For thirty days, you'll eat nutrient-dense, whole foods. With our mountains of farm-fresh produce, wide selection of natural meat and seafood, and variety of unique products, Sprouts makes it easy to shop for all your Whole30 approved groceries in one place. Visit our stores to find hundreds of approved items from brands like Kettle & Fire, Primal Kitchen, EPIC and more throughout our stores at always low prices.
Why Whole30?
The Whole30 focuses on fueling your body with nutrient-dense foods and eliminating items that can be causing digestive issues, food sensitivities, overall fatigue and more. During the elimination phase, you'll pay attention to what changes in the absence of these potentially problematic foods: energy, sleep, focus, mood, bloating, digestion, cravings, skin, aches and pains, and more. At the end of the 30 days, you'll reintroduce those foods one at a time, to identify the foods that may not be working well for you. You'll use that information to create the perfect, sustainable diet for YOU—grounded in new healthy habits, keeping you looking, feeling, and living your best. Read the full program rules and what to avoid
here.
DOWNLOAD YOUR SHOPPING LIST
---
Starting The Whole30: Shopping Lists, Meal Plans and Approved Groceries
Fill your cart with high-quality protein and colorful fruits and veggies first. The closer an item is to its natural state, the better!
Explore bulk bins. Our bulk department is full of nutrient-dense nuts and seeds, which make perfect Whole30 snacks to keep you satiated.
Easily shop Whole30 compliant groceries. Download your Sprouts Whole30 Approved shopping list HERE.
SHOP HUNDREDS OF WHOLE30 COMPLIANT GROCERIES
---
Whole30 Inspiration: Try these Whole30 Approved Recipes
---
Meet Co-Founder Melissa Hartwig Urban
Melissa Hartwig Urban is a Certified Sports Nutritionist who specializes in helping people change their relationship with food and create life-long, healthy habits. She is the co-creator of the original Whole30 program
(whole30.com),
and a five-time New York Times bestselling author. She has been featured by Dr. Oz, Good Morning America, the New York Times, the Wall Street Journal, Forbes and CNBC, and ranked #27 on Greatist Top 100 Most Influential People in Health and Fitness in 2017. Melissa has presented more than 150 health and nutrition seminars worldwide, and is a prominent keynote speaker on social media and branding, health trends and entrepreneurship. She lives in Salt Lake City, Utah.