Article by Mary Ellen Phipps, MPH, RDN, LD of Milk & Honey Nutrition
Shop for Foods with Low Sugar
Ready or not school is just around the corner! Do you know what you're going to pack your kids for lunch on their first day? Before you reach for the sweets, try this list of top 10 low-sugar lunch-box staples for great lunch ideas:
Sprouts Market Corner Wheat Bread
You can't have a list of lunch-box staples and forget the most critical piece to making sandwiches: bread. Oftentimes, bread is loaded with unnecessary added sugar and sodium. Not only is the Sprouts Market Corner Wheat Bread made with whole-grain wheat flour, it also has less than one gram of sugar per slice.
Horizon Organic Mozzarella String Cheese
String cheese is a quick and portable way to pack some protein and calcium into your lunch box. Cheese is naturally sugar-free, but more importantly, Horizon Organic Mozzarella String Cheese is also free of man-made, antifungal mold inhibitors.
Biena Chickpea Snacks
Crunchy, slightly salty and full of fiber, Biena Chickpea snacks are made with just chickpeas, oil and sea salt. Zero sugar. They also pack a whopping six grams of fiber and six grams of protein per serving—helping to keep you fuller longer so you won't wish you'd packed more for lunch.
Simple Mills Almond Flour Crackers
Whether you're making a bento-box lunch, or sending cheese and crackers for a snack, you can't go wrong with Simple Mills Almond Flour Crackers. They've got that classic crunchy cracker feel without preservatives and added sugar. (Crackers are a common place for unnecessary, added sugar to hide.) These are also suitable for anyone with celiac disease, gluten sensitivity or dairy intolerance, since they're made with naturally gluten- and dairy-free ingredients.
Beanitos Baked White Bean Mac 'n Cheese Crunch
A cheese puff that has navy beans listed as the first ingredient? Sign me up! These puffs from Beanitos are a much better alternative to the traditional lunch-box staple. They pack three grams of protein per serving and bring a little fun to your lunch box. They're also made without added sugar and only have two grams of naturally occurring sugar in each serving.
Sprouts Organic Popcorn – Lightly Sea Salted
With only three ingredients—popcorn, oil and sea salt—Sprouts Organic Popcorn (Lightly Sea Salted) is a great way to pack some fiber into lunchtime. Zero grams of sugar and three grams of fiber per serving help to sustain energy levels and keep blood sugar levels stable throughout the day.
Sprouts Organic Pretzels
Whether you pick the unsalted twists or the sticks, you really can't go wrong with Sprouts Brand Organic Pretzels. Just like crackers, pretzels often hide added sugar. But these have zero grams of added sugar and less than one gram of naturally occurring sugar. Go ahead, add this crunch to lunch!
Rhythm Superfoods Carrot Sticks
These carrot sticks from Rhythm Superfoods have just one ingredient: Wanna guess what it is? Yes—carrots—dehydrated carrots to be exact. All of their nutritional power is preserved so you don't have to worry about losing any of the healthy benefits like you might with baked or fried versions. They also come in Sea Salt and Ranch flavors. You'll feel good about this extra helping of veggies with a satisfying crunch!
RXBAR Kids
These kid-friendly versions of the popular adult protein bar are perfect for school lunches and snacks. They have zero grams of added sugar. And with seven grams of protein, five grams of fat and three grams of fiber, they are sure to sustain your child for at least a couple hours. The added protein from egg whites make them a better-for-you choice as well.
Barbara's Puffins – Original
This tasty cereal is an easy-to-pack, post-lunch treat for your child, or yourself. Dry cereal can offer that little bit of sweetness we all look for after lunch. Barbara's Puffins have three grams of protein, only five grams of sugar and five grams of fiber per serving making them a healthy "dessert" for lunch. Hopefully, you feel better equipped for the far-too-quickly-approaching school year! Go make your grocery list and load up on these 10 low-sugar lunch-box staples. You and your kids will be fueled up without unnecessary added sugar!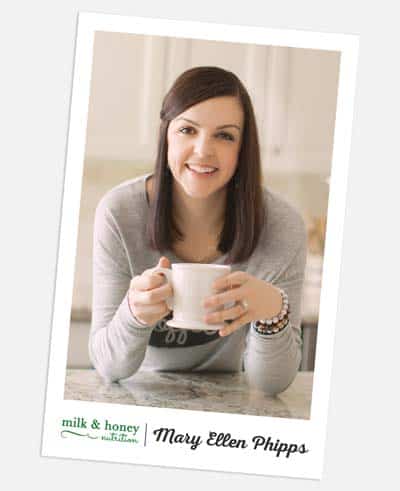 About Mary Ellen
Mary Ellen Phipps, MPH, RDN, LD, is the Registered Dietitian, mom, food blogger
,

and recipe developer behind milkandhoneynutrition.com. She's also a type 1 diabetic and firmly believes food should bring us joy, not stress. Mary Ellen makes healthy eating easy, realistic

,

and most importantly … fun! Visit her website and you'll find yummy low-sugar, diabetes-friendly recipes the whole family will love … as well as helpful tips

,

and a little mom humor.