Farm-fresh Produce
Sprouts Farmers Market partners with local farmers across the country to bring goodness into each of our communities. Sourcing local produce from family-run farms like Chip Berry Produce and Village Farms allows us to offer you a variety of unique items every season. We strive to choose farms that promote healthy, clean farming practices in Texas to bring you and your family the best produce that's full of goodness!
Chip Berry Produce
At Chip Berry Produce, pride runs strong—pride for the home-grown land in Texas and pride for the high-quality pumpkins they harvest! For the last 20 years, Chip Berry Produce have been stewards of the Texas land from Edinburg to Brownfield, working hard to bring goodness to you through their ornamental pumpkins, all while using sustainable and biological farming practices! Family owned and operated, Chip Berry Produce takes pride in growing and shipping their carving pumpkins from farm to store—the way it's supposed to be done! You can find Chip Berry Produce pumpkins in our stores at peak harvest season from September to December, just look for the "Thumping Good" Bunny label!
---
Village Farms
Heavenly Villagio Marzano Tomatoes are exclusively grown by Village Farms in the great state of Texas! Established in 1989, Village Farms is one of the oldest, all-glass greenhouse growers in Texas. Their expertise in greenhouse technology allows their plants to thrive and remain protected throughout any adverse weather conditions. Their farmers believe happy plants produce the best tasting produce—and so do we! Village Farms prides themselves on supplying the most unique varieties of tomatoes that are non-GMO, such as the Heavenly Marzano Tomato, which are the only authentic, mini San Marzano tomatoes being sold in North America today.
---
Val Verde Vegetables
Val Verde Vegetable Co. is a third generation, family farm founded in 1989! Over the years, they have specialized in growing fresh, high-quality vegetables such as broccoli, leafy greens, cauliflower, cabbage and other favorites grown locally in Alamo, Texas. In 2015, they ventured into growing organic vegetables and strive to continue this as they expand.
---
Wiggins Farms
Wiggins Farms was founded in 2003 and specializes in growing the juiciest watermelons in south and east Texas! The Wiggins family farm is a fifth-generation owned and operated farm committed to bringing the great state of Texas the best watermelons each season!
---
South Tex Organics
South Tex Organics was founded in 1984 and is committed to growing high-quality, organic produce. With over 500 certified organic acres, this family-owned farm is one of the largest organic citrus and vegetable growers in Texas. They have successfully grown their business from small, local deliveries in Austin to large truckloads of juicy citrus! Their organic produce like Texas Rio Star grapefruits, oranges and Meyer lemons are picked at peak maturity and sent directly to the packinghouse for you to enjoy!
---
Winter Sweetz
You can enjoy perfectly tree-ripened, red grapefruits that are grown in the great state of Texas by Winter Sweetz! Located in the Rio Grande Valley, the rich soil and temperate climate provides an ideal environment to produce these surprisingly sweet and vibrant grapefruits. This family-owned farm is proud to bring you high-quality citrus while maintaining and caring for the land on which it's grown. Winter Sweetz promotes sustainable farming practices by utilizing drip irrigation, a water recycling program and has reduced their usage of herbicides and pesticides.
---
Fredericksburg Peach Company
When you bite into a Texas peach this summer, you can feel confident that you're supporting hardworking, local Texas farmers! Fredericksburg Peach Company works with over 30 growers across Texas to market and sell their peaches to grocers. Promoting locally grown fruit and vegetables have been at the heart of what they do since their inception in 1984. Founded by Frank Davis, Fredericksburg Peach Company began to build a reputation with growers and buyers from San Antonio to Dallas, as someone who does business with honesty and integrity. Supporting Texas agriculture is just as important to the farms, as it is to the consumers who shop "Texas Home Grown" produce!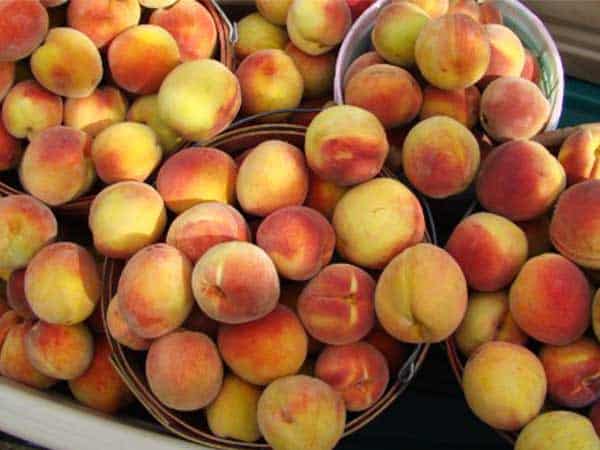 ---
Shop Fresh Produce