Let's face it, life moves quickly! And for newcomers to eating paleo it can be a bit challenging at first to prep on-the-go meals and snacks with seemingly simplified options, but it's also super important if you want to stay on track! Here are some make-ahead recipes to make your paleo path a bit easier.
Snackables
Weekends are a great time to prep snacks for the week. Make these super-simple, two-ingredient (Yes—just two!) Apple Chips to pair with the raw nuts and seeds you've gathered at our bulk aisle. Voilà! You've got custom-made trail mix for the week.

Dippable veggie snack options are practically endless on a paleo diet. While you're baking the Apple Chips, cut up your favorite veggies for snacking. Then make this paleo-friendly Spicy Sweet Potato Hummus. Portioned into small, resealable containers and paired with your fresh-cut veggies, you've got snacks at the ready!

Well in Hand
Heading to the gym and need a bite? Picking up the little ones from school and they're famished? This tasty make-ahead breakfast might just become your new favorite grab-n-go snack as well! You can make it at the top of the week and store them refrigerated in an air-tight container for a delicious, nutritious protein-packed paleo pick-me-up anytime during the week. Breakfast: It's not just for well, breakfast anymore.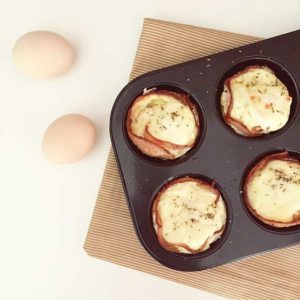 Paleo cake to go? Yes please! These little bite-sized nuggets of yumminess are packed with pecans and carrots. Loaded with 19 vitamins and minerals, not to mention fiber and antioxidants, pecans are the powerhouse behind these Carrot Cake Balls. Let's not forget the carrots that hold their own in the vitamin-rich arena. A hint of sweet and spice make them irresistible!
You can find more paleo recipes on our website.