Cheers to the Best Non-Alcoholic Spirits and Cocktails
Cheers to the Best Non-Alcoholic Spirits and Cocktails
Crafted with unique, refreshing flavor combinations and natural botanicals, these social tonics give you the delicious buzzy taste you're looking for without the alcohol.
Parch
PARCH makes non-alcoholic, adaptogenic cocktails inspired by the Sonoran Desert. Each flavor is made with 100% organic Blue Weber Agave and blended with desert fruits and botanicals to create unique pairings based on their motto, "What grows together goes together." This mix of functional adaptogens and desert botanicals is designed to create a relaxing social drinking experience like no other, without the alcohol.
Free AF
All the flavor, taste and sensation of your classic cocktails – without the alcohol. Free AF drinks are made with Afterglow, a natural botanical heat extract that mimics the pleasant warmth of alcohol. Perfect for those who want to enjoy an adult, sophisticated drink but still want to feel fresh.
Hiyo
Hiyo's non-alcoholic Blackberry Lemon seltzer is a flavor journey for the bold! Rich blackberry packs a tangy punch as zesty lemon notes round out this complex profile. Crafted with organic adaptogens, natural nootropics, and functional botanicals, Hiyo provides a stress-relieving, mood-boosting lift the brand likes to call "the float."
Kin Euphorics
Kin Euphorics is a non-alcoholic, functional beverage crafted with ingredients that nourish the mind and body. With adaptogens to help you manage stress, nootropics to support brain cognition and botanicals to elevate taste, each can has a sparkling herbaceous blend of bright ginger, orange bitters, hibiscus and citrus.
Sip, Sip Hooray! Pour yourself a glass of something fruity and fun.
---
Tend Your Own Bar with Better-for-You Mocktails
Use these fun-non alcoholic drink recipes as inspiration to create your own summer spritzers.
Blood Orange Mocktail Moscow Mule
Get Recipe
Blushing Spring Grapefruit, Apple and Lavender Chamomile Mocktail
Get Recipe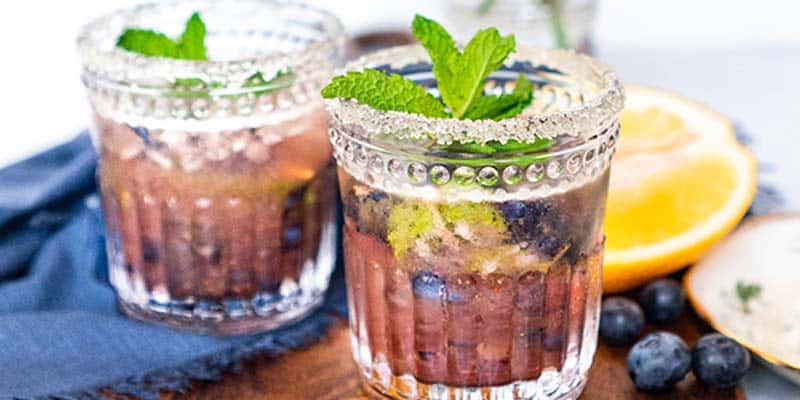 Blueberry Mint Mocktail
Get Recipe