Need a unique, creative holiday gift? Look no further than these DIY gift bundles that your friends and family will love! A gift basket made by you is a thoughtful, practical and personalized gift that any friend or family member will cherish. Follow this gift guide for easy ideas to create bundles like cozy at home, self-care and one even for the kids too!
Gifts for the kids
This bundle is perfect for the kiddos who enjoy colorful, entertaining and fun activities! From a unique advent calendar to Go Fish and pick-up sticks, they're sure to be entertained!
Supplies:
BiOBUDDi Savanna Set
EEBOO Advent Calendar
House of Marbles O-Deer! Christmas Ring Toss
House of Marbles Pick-up Sticks
House of Marbles Go Fish! Card Game
Melissa & Doug Shape Sorting Clock
OOLY Mini Play Again Daring Dinos
OOLY Mini Play Again Sunshine Garden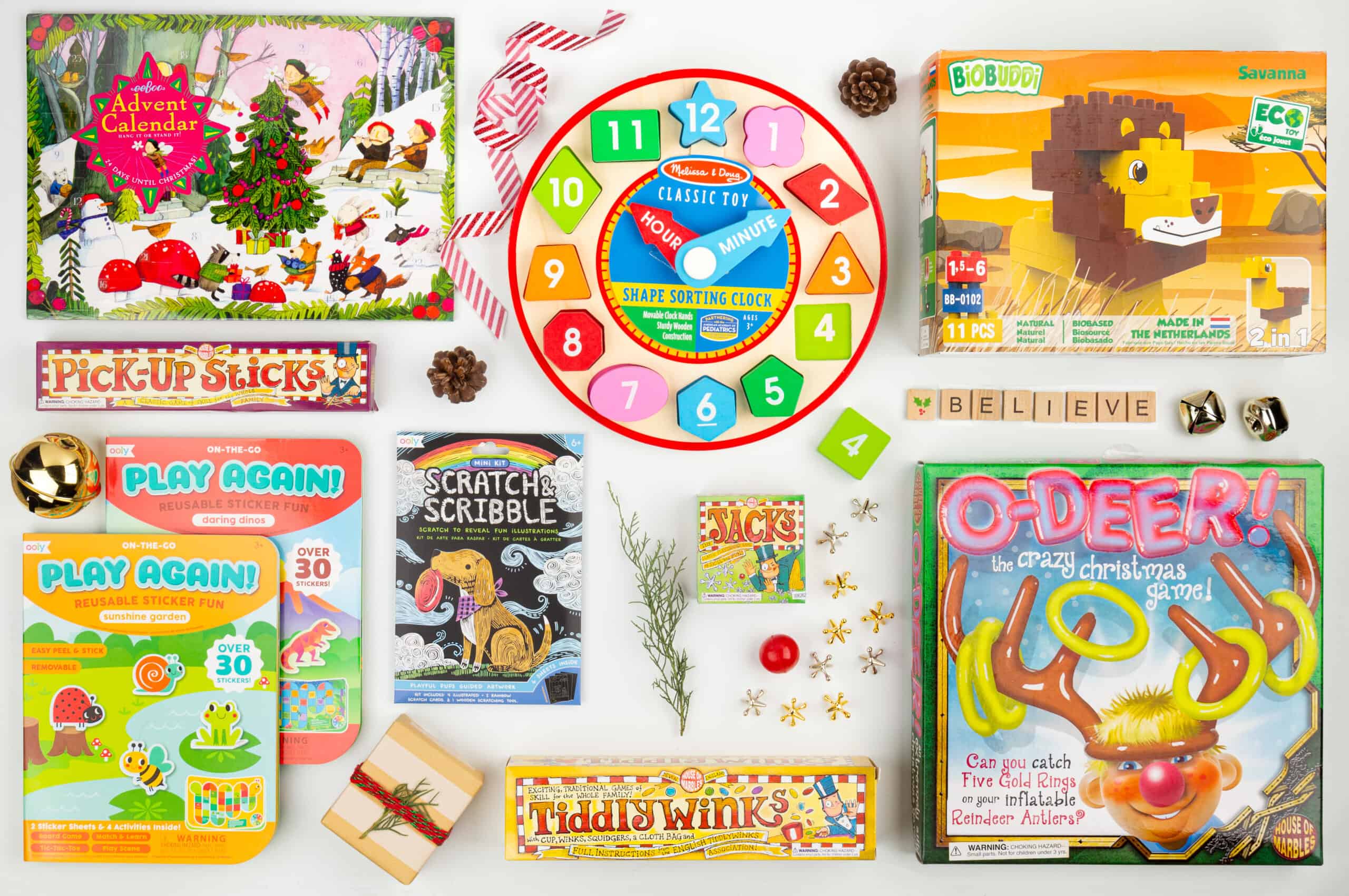 ---
At-home Wellness Bundle
Give the gift of relaxation this holiday season with a bundle full of wellness essentials to create the ultimate self-care-at-home experience!
Supplies:
Aura Cacia Essential Oils
Garden of Life Essential Oils
Triloka Palo Santo Incense
Triloka White Sage Smudge
Evolution Salt Co. Small Salt Lamp
SOL Organic Restoring Eye Pillow
Andalou Naturals Instant Hydration Face Mask
Sprouts Essentials Rose Bath Bomb
Aura Cacio Lavender Mineral Bath Soak
---
Cozy for the Holidays Bundle
Keep your friends, family and loved ones warm and cozy this season with a thoughtful basket full of winter must-haves like mittens, ear warmers and super soft hats.
Supplies:
Andes Gifts Animal Ear Warmers
Andes Gifts Blended Hats
dZi Handmade Ornaments
dZi Handmade Coinpurse
Feelgoodz Fingerless Gloves and Mittens
Foundry Seasonal Mercury Glass Candles
Quagga Green Slipper Socks
Sprouts Bath Bomb in Rose
---
Body Care Basket
There's nothing like the gift of high-quality, luxurious body care! This bundle is perfect for the person on your list who enjoys taking good care of their skin with nourishing lotions or unwinding with essential oils and candles.
Supplies:
Sprouts Moisturizing Hand Wash
Burt's Bees Beeswax Bounty Assorted Lip Balm
Poo-Pouri 2 oz. Room Sprays
Aura Cacia Holiday Essential Oil Kit
Sprouts Peppermint Swirl Soy Candle
Sprouts Artisan Soap Bar
Sprouts Giant Bath Bomb
Zum Bar Goat's Milk Soap Bar
Sprouts Essentials Room & Body Spray
---
EXPLORE GIFTS FOR ALL