Halloween Sips & Snacks
Hosting a Halloween gathering? These festive fall recipes will get everyone in the Halloween spirit.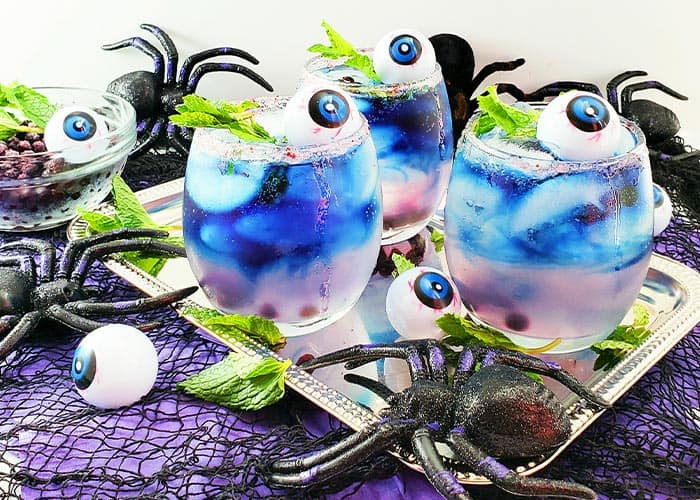 Scary Berry Mint Lemonade
A delicious combo of blueberries, fresh mint, and just a hint of fright!
Recipe by:
Andrea at Beautiful Eats & Things.
Ingredients:
1 bottle Sparkling mineral water
½ cup Blueberry lemonade
2 Tbsp. Frozen blueberries, thawed
1 tsp. Fresh mint, chopped
1/4 tsp. Simple syrup
1/2 tsp. Sugar for rim
Ice
Optional: All-natural blue food coloring
Directions:
Mash 1 Tbsp. of blueberries and combine with sugar. Swirl the rim through the blueberry and sugar mixture.
Add ice to the sugar-rimmed glass and add in 1 Tbsp. of blueberries and 1 tsp. of fresh mint. Pour in blueberry lemonade and simple syrup. Top with sparkling mineral water and stir.
For a cool effect, add one small drop of all-natural blue food coloring (do not stir), and a Halloween decoration on top!
---
Spiced Vanilla Chai
A fall-inspired iced tea with notes of vanilla, cinnamon and cardamom topped with orange sparkling water.
Recipe by:
Lauren at Bonappeteach.
Ingredients:
1 can Orange sparkling water
4 Vanilla chai tea bags
4 1/2 cups Water (divided)
2 whole Cinnamon sticks
1/2 cup White sugar or sugar substitute
1 whole Orange, juiced
Directions:
Bring 4 cups of water to a boil. Remove from the heat and steep the 4 tea bags into the 4 cups of water and allow them to rest there for 10-15 minutes. Remove the bags and discard and allow the tea to chill by placing it to cool in the fridge.
To make the cinnamon simple syrup, heat the remaining 1/2 cup of water over high heat and bring to a boil. Add the sugar and stir until dissolved. Turn off the heat and steep the two cinnamon sticks and allow it to rest and cool on the stovetop while the tea chills in the fridge.
To assemble your drink, in a large pitcher, combine the tea, the cinnamon, simple syrup and the juice of one orange. Stir until well dissolved. Pour ice into a glass, fill with the tea mixture about 3/4th of the way and top off with the orange sparkling water. Garnish with a cinnamon stick and orange slice if desired.
---
Fizzy Purple Potion Punch
Made with frozen blackberries, cranberry juice, grape juice and sparkling water, this drink is fun for all!
Recipe by:
Erin at The Speckled Palate.
Ingredients:
3 1/2 oz. Sparkling lemon water
1 oz. Cranberry juice
2 oz. Grape juice
1/4 cup Frozen blackberries
Directions:
In a glass, pour in the cranberry and grape juice.
Drizzle lemon sparkling water on top of the juices and stir.
Add frozen blackberries and enjoy immediately.
Festive Cocktails
Witches' Brew (Mulled Wine)
Whether you host or attend a Halloween party, this recipe will keep everyone in the spirit with fall flavors and haunting hues.
Recipe by:
The Fond Life
Ingredients:
1 Bottle Merlot or Cabernet
2 cups Apple juice or cider
2 med. Oranges
Juice of 1 lemon + 1 tsp. zest
10 whole Cloves
10 Cardamom pods
4 Cinnamon sticks, plus extra for garnish
1 whole nutmeg
Cheesecloth
Directions:
Press 10 cloves into one of the oranges. Juice remaining orange and one lemon, zesting 1 tsp. of the rind and set aside.
Break up cinnamon into two-inch pieces. Wrap cinnamon, cardamom pods and nutmeg in cheesecloth.
Combine wine, apple juice, whole orange with inserted cloves, orange juice, lemon juice and lemon zest in a pot. Twist your spices in cheesecloth and submerge lightly into the mixture, using the pot's lid to secure the spices in place. Alternately you can tie the spices with twine and throw the whole thing in.
Bring to a light boil, reduce heat and let simmer for 10–15 minutes.
Let cool slightly and remove spice bag and whole orange.
Serve with additional cinnamon stick and orange peel if desired.
---
Pumpkin Pie Cider Fizz
Celebrate the first day of fall with a sweet, flavorful and fun cocktail that only has four simple ingredients.
Recipe by:
Nosh and Nourish
Ingredients:
2 Tbsp. Maple pumpkin butter
1 Tbsp. Unsweetened cashew milk
2 Tbsp. Vodka (optional)
1 16.9-oz. bottle Sparkling pumpkin spiced apple cider (one bottle makes three cocktails)
Directions:
Combine the pumpkin butter and cashew milk in an 8 ounce glass. Stir until thoroughly mixed.
Add in vodka. (Note: if you want to make it a mocktail, just leave out the vodka! It's still delish.)
Top with sparkling pumpkin spiced apple cider.
Stir with a tall spoon.
Serve immediately.
For a sugared rim:
Combine 1 tablespoon coconut sugar and 1 teaspoon pumpkin pie spice in a small dish.
Rub an apple slice along the rim of the glass.
Dip the glass upside down into the sugar mixture.
---
Pumpkin Spiced Apple Cider with Rum Cocktail
This delicious drink with rum, pumpkin apple cider and a cinnamon simple syrup is perfect for those crisp days and cooler nights. Recipe makes two cocktails.
Recipe by:
Creative Culinary
Ingredients:
For the Cinnamon Simple Syrup:
1/2 cup Granulated sugar
3/4 cup Water
2 Cinnamon sticks
For the Cocktail:
4 oz. Pumpkin spiced apple cider, chilled
3 oz. Dark rum
1 oz. Cinnamon simple syrup
5 oz. Fresh lemon juice
Ginger ale, chilled
Directions:
Make the cinnamon simple syrup: combine the granulated sugar and water in a medium saucepan and heat on medium until the sugar dissolves. Add the cinnamon sticks and simmer for 10 minutes. Remove the cinnamon sticks and cool the syrup to room temperature.
Chill two large lowball glasses.
Combine pumpkin spiced apple cider, dark rum, cinnamon simple syrup and lemon juice in a cocktail shaker filled with ice. Shake several times until container is ice cold.
Fill the chilled glasses with ice, pour the mixture into the glasses, top with ginger ale and gently stir. Garnish with a cinnamon stick and serve.
Simple and Spooky Trail Mixes
More treat than trick, these easy mixes come together in minutes. Simply dump and toss for a delicious handful of salty-sweet! 4 cups of everything is all it takes!
Harvest Trail
Pretzels
Candy corn
Popcorn
Chocolate peanuts
Pumpkin seeds
Sunflower seeds
Ghost Grub
Smokey cheddar roasted peanuts
Pretzel sticks
Hatch green chile chocolate peanut gems
Roasted salted toasted corn
The Bone Yard
Raw trail mix
Yogurt covered pretzels
Neon sour gummy worms
Chocolate berries & yogurt fruit medley