Next time brunch is at your place, try this fun and unexpected DIY Bloody Mary Bar! Mimosas are the classic brunch cocktail, but breaking out the veggies instead and mixing up a hearty Bloody Mary is another great way to start the day. Not only will this build-your-own-drink bar impress your guests with its stunning display, they'll also have a blast making their own Bloody Marys and experimenting with unique flavor combinations. Better yet, for a non-alcoholic or "mocktail" version, simply replace vodka with sparkling water!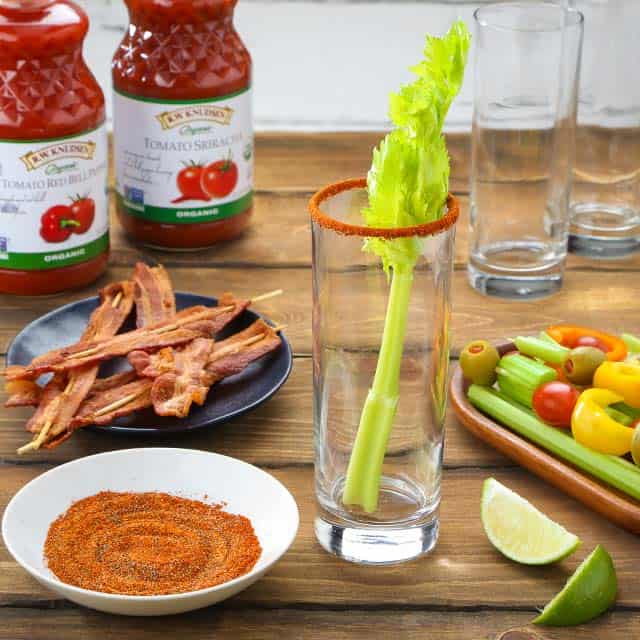 With vibrant, fresh citrus and colorful veggies, the only thing you'll need is R.W. Knudsen's savory tomato juice. R.W. Knudsen's Organic Tomato Juice features flavors like Sriracha and red bell pepper, so you and your guests can skip adding the heat—it's all the spice you need in one bottle!
 You'll need:
Vodka or sparkling water
R.W. Knudsen's Organic Tomato Sriracha Juice and/or Organic Tomato Red Bell Pepper Juice
R.W.Knudsen's Organic Chopped fruits and veggies for garnish—these could be cherry tomatoes, lemon, lime, celery, bell peppers or olives
Optional garnish: bacon
Cayenne pepper salt for a salted rim
Glasses
Set up:
Lay out glasses
Arrange juices and garnishes
Lay out skewer sticks for an easy garnish kabob
Let guests enjoy and experiment with the Bloody Mary fun!