At Sprouts, we're dedicated to providing you and your family with thousands of organic items that extend far beyond our farm-fresh produce. From our high-quality meat, dairy and cheese, to our aisles brimming with your everyday meal essentials and delicious organic treats or on-the-go snacks, we have everything you need for an all-organic diet.
---
Organically delicious!
Go all in with organic goodness and explore some of our most nutritious faves to help fill your cart with an easy-to-follow, organic shopping list.



Your Organic Shopping List
---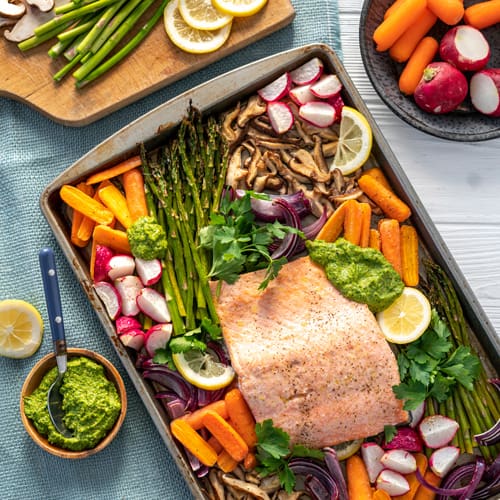 The organic difference
Organic foods are a healthier choice compared to their conventional counterparts because they follow a strict set of agricultural guidelines and standards. This includes avoiding the use of synthetic pesticides and fertilizers, antibiotics and genetically modified ingredients.
Organic items are also produced in a way that helps preserve the environment and natural resources through more sustainable farming practices, helping improve our soil, air and water quality. In order to carry the USDA Certified Organic seal, farmers, ranchers and food processors must go through a thorough verification process by a USDA-accredited certification agency.
Making the switch
Since many of your grocery-list favorites and exciting new items are available in organic at Sprouts, it's easier than ever to make the switch. Next time you make your shopping list, simply swap your staples with organics items. Are eggs, coffee and bread always on your list? Start there! As you shop for more and more organic groceries each week, eventually your refrigerator and pantry will be stocked with plenty of organic goodness you and your family can feel good about.
Here are a few reasons to shop organic:
Organic fruit and vegetables may contain higher nutritional values than conventional ones.
Shopping organic goods can reduce your exposure to synthetic pesticides, antibiotics and GMOs.
Organic farms can help preserve water and soil resources.
Organic products help promote earth-friendly and sustainable farming practices.
Pro tip: Shop in-season!
We're proud to offer some of the freshest, most unique produce items every season. Save time and money on your favorite organic produce items while they're in season by purchasing large quantities and freezing them to use when needed.
---
Feeling inspired? Give these Organic recipes a try!
Crispy Salt and Vinegar Potatoes
Get Recipe
Whole Wheat Farfalle Pesto Pasta
Get Recipe
Easy Turkey & Black Bean Taco Bowl
Get Recipe
---
Shop Now

BACK TO TOP