We are now proud to carry air-chilled, organic chicken in all stores!
With better flavor and texture, our organic air-chilled chicken is tender. The skin is crispy while keeping the chicken incredibly juicy. The air-chilling process is kind to the earth, saving thousands of gallons of water a day.
Easiest Roasted Chicken
Roasted over a bed of root vegetables for extra flavor, this recipe couldn't be simpler or more foolproof. Recipe provided by our blogger friend, Molly, at Spices in my DNA.
Prep time:
15 minutes
Cook time:
 80 minutes
Serving size:
4
INGREDIENTS:
3.5 lb. Organic Sprouts Whole Chicken
2 tsp. Sea salt
1 tsp. Ground black pepper
1 Lemon, halved
Several sprigs of fresh thyme
1 cup Red potatoes, cubed
1 cup Sweet potatoes, peeled and cubed
1 cup Parsnips, cubed
1 cup Celery root, cubed
1 1/2 tsp. Olive oil
3/4 cup Chicken broth
INSTRUCTIONS:
Preheat oven to 425°F. Rinse your chicken under cold water and dry very well with paper towels. You want the chicken to be as dry as possible so it develops a crispy crust!
Season the inside of the cavity with a couple pinches of salt and pepper. Rub the outside of the chicken generously with the salt and pepper. Stuff the cavity with the halved lemon and thyme. I like to stuff in half of the lemon, a couple sprigs of thyme, the other half of the lemon, and then the remaining thyme.
Truss the chicken using butcher's twine. Check out this video on how to truss. Trussing will ensure your chicken cooks evenly.
Place the root vegetables in a heavy, large, oven-safe skillet, like a cast iron. Alternately, you can use a shallow roasting pan or rimmed baking sheet. Toss the vegetables in the olive oil and a couple pinches of salt and pepper.
Arrange vegetables in a single, even layer. Place the trussed chicken on top of the vegetables and pour the chicken broth over the vegetables. Bake for 1 hour 20 minutes to 1 hour 30 minutes, or until outside of the chicken is golden brown and crispy, the meat feels firm when pressed, the juices run clear. If you have a thermometer, the meat near the inner thigh (between the leg and the breast, reads 165°F.
Let chicken rest for 10–15 minutes or so before carving. This ensures a super juicy bird! At this point, I discard the root vegetables. They really serve just as a bed to roast the chicken on, and they provide a lot of flavor to the bird.
Slow Cooker Garlic Butter Chicken
Topped with a delicious and easy gravy, this recipe is low-carb and keto-friendly, with Paleo and Whole30® options. Note: You'll also need aluminum foil, kitchen twine and a pastry brush. Recipe provided by our blogger friend, Cheryl Malik, at 40 Aprons.

Prep time:
15 minutes
Cook time:
 300 minutes
Serving size:
4
INGREDIENTS:
1/4 cup Fresh parsley
3 Garlic cloves, peeled
4 Tbsp. Unsalted butter, softened
1+ tsp. Salt
1 Garlic head, sliced in half crosswise
3-4 lb. Sprouts Organic Whole Chicken, giblets removed
1 Tbsp. Avocado or olive oil
3 Tbsp. Cassava flour
1/2 cup Chicken stock
INSTRUCTIONS:
For the garlic butter: In a food processor, combine parsley and garlic. Pulse until chopped. Add softened butter and salt and pulse until well combined. Scrape out of food processor into a bowl
For the chicken: Place chicken on a cutting board and pat dry. Remove giblets if necessary. Loosen skin by inserting fingers between the skin and meat, breaking any membranes connecting the skin to the meat.
Stuff garlic butter mixture evenly under skin. Working with 1–2 tablespoons at a time, stick a little mixture under the skin then spread out by pressing on top of the butter with your fingers under the skin or another hand on top of the skin. Repeat until all mixture is evenly used under skin over breast and legs.
Place one half of the garlic inside the chicken cavity.
Tie chicken legs together. Place a long piece of kitchen twine, about 3-feet long, on a surface. Place chicken in the center of the twine right at the top of the thigh. Take both pieces of twine in your hands and bring them down along the seam between the leg and breast. Loop twine inside the end of the leg and around, bringing both ends together and tying very tightly.
Sprinkle chicken with a bit more salt. Create a foil rack and place in the bottom of the slow cooker. Twist a long piece of foil into a rope then shape into a circle, or ball up 3–4 pieces of foil and place in a triangle or square shape in the bottom of the slow cooker. Place remaining half of garlic head in bottom of slow cooker.
Place chicken breast down on top of foil rack and cover. Cook on low heat 4–5 hours or until internal temperature registers 160°F.
Remove ceramic cooker from heating element. Carefully flip the chicken from breast down to breast up. Brush the 1 tablespoon oil all over chicken skin and preheat broiler. Place ceramic cooker in oven about 10 inches from heating element. Watching carefully, broil until skin is evenly browned, then remove from oven.
Remove chicken from cooker and place on a cutting board. Loosely tent with foil to rest. Replace cooker in slow cooker heating element and turn heat to high.
For the gravy: Remove the garlic head from slow cooker. Sprinkle drippings with cassava flour and whisk well until smooth. Add in stock and cook 10–15 minutes. If the mixture does not thicken to your liking, transfer to a saucepan and cook a couple minutes over medium heat, whisking constantly.
Carve chicken and serve with plenty of gravy.
Flavorful Instant Pot Whole Chicken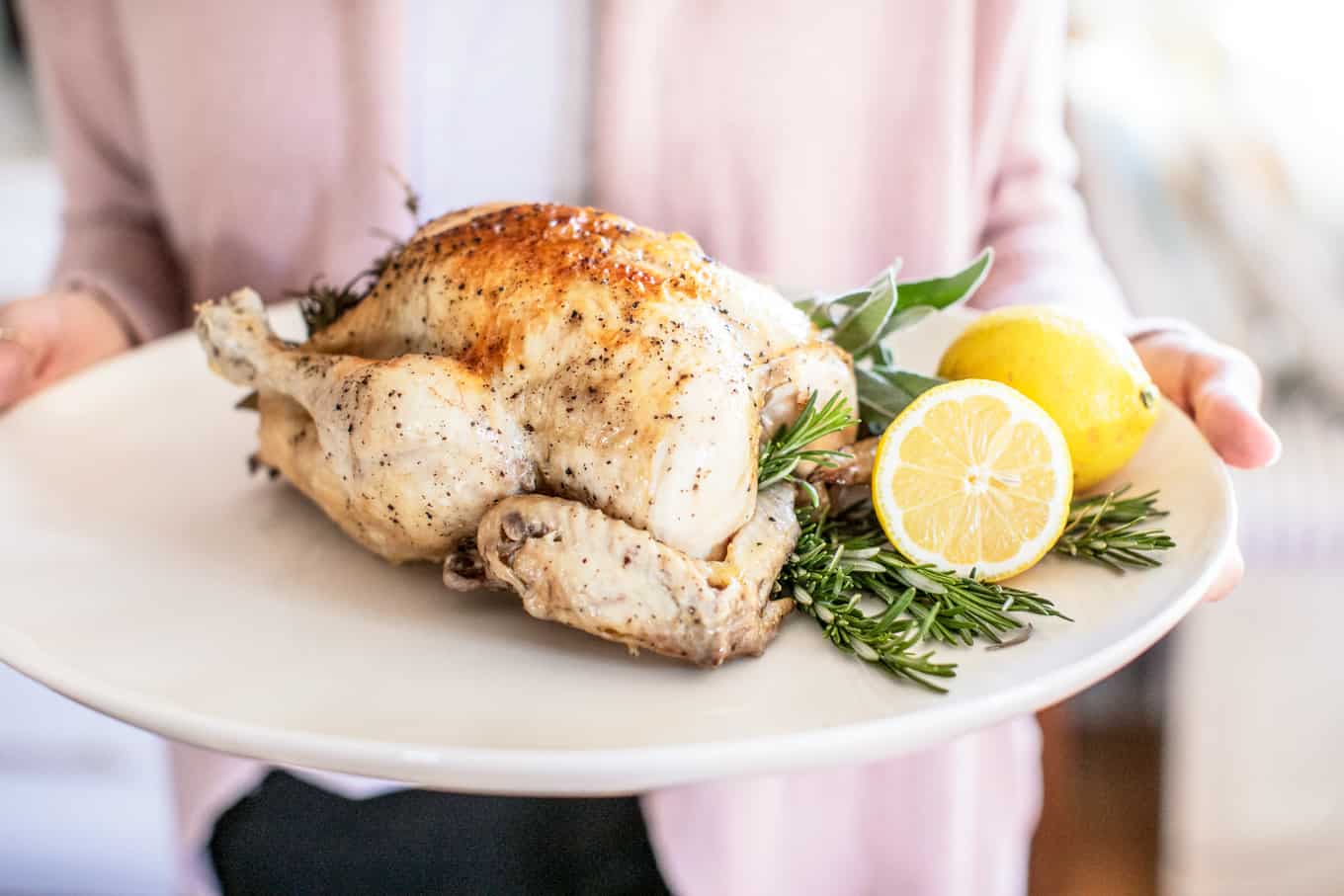 We love tasty chicken, and we especially love tasty chicken done in under an hour! Grab your instant pot multicooker and have dinner ready in a flash. *Note: for every pound add 6 minutes, for every half a pound add 3 minutes to total cooking time for whole chickens. Recipe provided by our blogger friend, Kate, from Root Revel.
Prep time:
10 minutes
Cook time:
45 minutes
Serving size:
4

INGREDIENTS:
3 lbs. Sprouts Organic Whole Chicken
1 Garlic head
1/2 Sweet onion
1/2 Lemon
1 bunch Thyme
1 bunch Rosemary
1 bunch Sage
2 Bay leaves
6 Tbsp. Butter
1 1/2 cups Chicken broth
2 Tbsp. Salted white-truffle ghee
INSTRUCTIONS:
Liberally salt and pepper the inside of the chicken. Stuff chicken with 1 head garlic, cut in half crosswise, onion, lemon, thyme, rosemary, sage and bay leaves.
Gently loosen the skin from the chicken breast, lifting it from the meat with your fingers and rub about 3 tablespoons of butter under it. Rub 3 more tablespoons of butter all over the chicken surface and season with salt and pepper.
Add a trivet with handles to the instant pot and add chicken broth. Place the chicken on top of the trivet and cover with the lid, lock it, point valve to sealed, press high pressure and set the timer for 20 minutes.
Let the pressure naturally release for 15 minutes, followed by a quick release of the remaining pressure. Remove the chicken and test temp to ensure it's cooked to 165°F. and place it on a baking sheet, breast side up. Brush 2 tablespoons melted truffle ghee over top of chicken.
Broil for 5–8 minutes, or until skin is golden-brown and crispy. Serve and enjoy!