As with any wine and food pairing, there are a number of considerations, such as texture, acidity, fat and tannin. The wine and cheese possibilities are endless, but to simplify the strategy, we give you nine noteworthy combinations (no pun intended).
1. Smoked Gouda and 7 Deadly Zins
This full-bodied Zinfandel pairs well with sharp and smoky Gouda. Gouda's mix of salty and sweet, along with its deep nutty character, stands up well to the zin's bold flavors.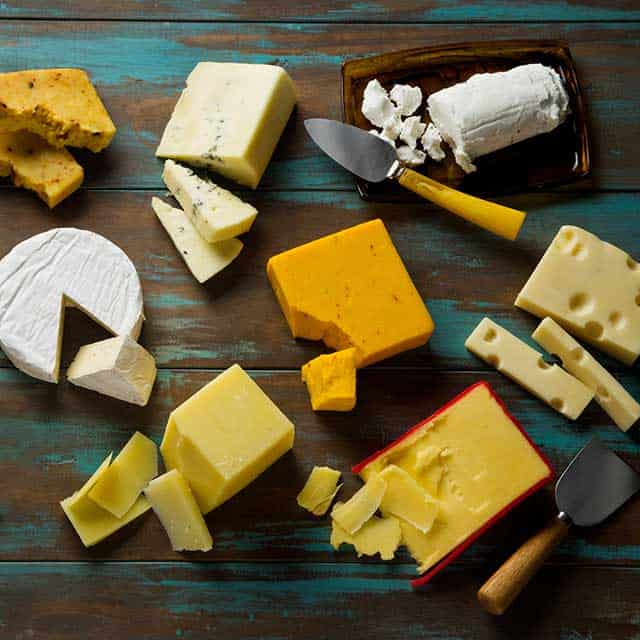 2. Chipotle Cheddar and Jaume Serra Cristalino Brut Cava
This fine Spanish sparkling wine has citrus and apple flavors with a clean, crisp finish. It's a great celebratory wine that tames a zesty cheddar cheese.
3. Monteforte Blue Wedge and Montes Classic Cabernet Sauvignon
This creamy, crumbly cheese pairs well with a medium-bodied red blend. The friendliness of the tannins, combined with its spice and acidity, makes the Montes Classic Cabernet Sauvignon the best choice.
4. Jalapeño Cheddar and Apothic Red Blend or La Crema Chardonnay
"Everything is betta with chedda," as the saying goes. This flavor-packed cheese pairs especially well with Apothic Red's captivating blend of Syrah, Cabernet Sauvignon and Merlot.
5. Carpa Goat Cheese Log and Starborough Sauvignon Blanc
Sauvignon Blanc is the wine most often chosen to accompany goat cheese. Why? Because the zippy acidity in the wine matches the tanginess of the cheese. The combination of the two is fresh and invigorating.
6. President Swiss Emmental and La Marca Prosecco
Refreshing effervescence and lively fruit flavors give La Marca Prosecco a cheese-friendly profile. The Italian sparkling wine pairs well with a semi-hard, cow's milk cheese such as Swiss.
7. Screaming Dutchman Red Wax Gouda and Chateau Ste. Michelle Riesling
Riesling is a semi-sweet wine with peach and citrus undertones. Its lightness complements mild Gouda, which is creamy and easy on the palate.
8. Parmesan Reggianito and Bodega Norton Malbec Reserve
Bodega Norton Malbec Reserve characteristic spice and explosive fruit flavors hold their own when paired with Parmesan's salty personality.
9. Pe're Brie and Gnarly Head Pinot Noir
In general, softer cheeses go best with light-medium red wines, as the lighter flavors are more in tune with the subdued textures and buttery flavors. Pinot Noir's robust flavors complement Brie's buttery texture and mellow flavor.
Wine is not available in Colorado, Oklahoma or Utah. Items may vary by location.