Sometimes, even when we do our best to meal plan, prep and juggle life's hectic schedule, the occasional scramble to plan dinner on the fly can still happen. We've pulled together a few of our favorite easy weeknight dinners for when you find yourself in a pinch.
Quick Dinner Ideas with Chicken
Chicken to the rescue! Buying a whole roasted chicken can save time and money during a hectic school night. When combined with lettuce, tomatoes, cucumber, olives and feta you'll have a hearty Greek salad in minutes. Or shred the chicken over cooked rice, black beans, queso fresco, sour cream and salsa for hassle-free burrito bowls!
Frozen in a Flash
Next time you're in the frozen food department, stock up on your favorite veggies. Always ready to prepare, frozen vegetables have just as much nutritional value as their fresh friends in our produce department. Sautéed with savory spices and served over rice or noodles—you'll have a fantastic stir-fry the whole family can enjoy. Add leftover protein if you have it, or cashews make a nice meatless protein addition as well.
Easy Options
A quick stop at Sprouts' on your way home can give you loads of inspiring dinner ideas. Paired with fresh, steamed broccoli, our Market Corner Signature Mac & Cheese will become a family favorite. Create your own Cobb-style salad by topping fresh field greens with hard-boiled eggs, meat and cheese from our Deli. Try our chef-inspired One Pan Meals like Citrus Herb Chicken, Shrimp Scampi, Thai Chicken Sauté and more for a savory, nutritious dinner that's ready in less time it takes to order and pick up!  
---
Give These Simple Recipes a Try!
Keto Cauliflower Rice Taco Bowls
Get Recipe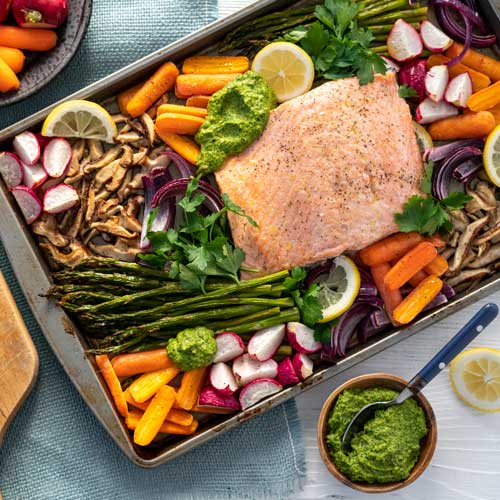 Sheet Pan Salmon Primavera
Get Recipe
Green Goddess Tortellini Soup
Get Recipe