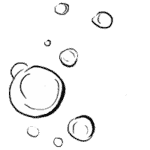 Not all shampoos and conditioners are created equal. Feel good about your hair care with eco-friendly shampoo and conditioner bars.
Give Mother Nature
a helping hand
It's easy to reduce water waste and help save the planet! Each bar is created without water or plastics, but instead crafted with long-lasting, concentrated formulas and naturally derived ingredients that are good for you and the planet.
Did you know?
Each bar can replace 2-5 plastic bottles of shampoo or conditioner!
---
Washing is as easy as 1-2-3
1.
WET
2.
MASSAGE
3.
RINSE
---
Get the best from your bars!
Because shampoo and conditioner bars are crafted with all-natural ingredients, leaving them sitting in a puddle of water can cause your bars to become soggy and break down quicker. The simple solution: Store your bars where water can easily drain. 
What are some of our favorite storage options?
Sleek and stylish soap trays
Biodegradable "soap saver" bags
Compostable, in-shower closed containers
Make every day a good hair day!