The cooler temperatures call for gathering with loved ones and enjoying warm and cozy dishes. Turn up the heat in the kitchen and try these three hearty dishes:
Creamy Baked Pasta
As the weather gets cold and crisp, many people start to crave warm and hearty dishes. The squash adds a touch of fall flavor while the fresh veggies and broth-based sauce keep the pasta light and fresh.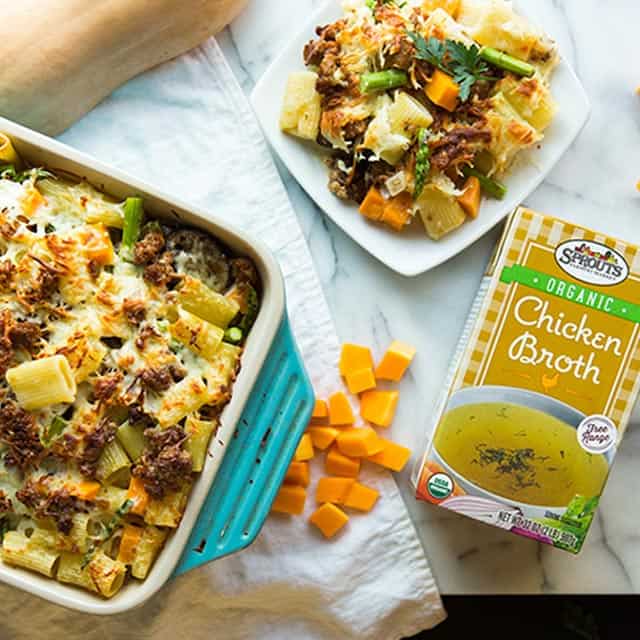 From
The Fond Life
Ingredients:
1 lb. Sprouts Rigatoni
1 lb. Hot Italian sausage
Butternut squash, skin removed and diced into 1/4-inch cubes
10 Asparagus stalks, cut into 1-inch pieces
2 cloves Garlic, minced
1/2 tsp. Red pepper flakes (optional)
Sliced mushrooms
1 Anchovy, minced (optional)
Heavy cream
1 cup Sprouts Organic Chicken Broth
1/2 Lemon, juiced
1/2 cup Romano cheese, grated
1/2 cup Parmesan cheese, grated
Instructions:
Preheat oven to 400°F and bring a large pot of salted water to a boil.
Line a baking dish with foil. Place diced butternut squash on dish and coat lightly with olive oil. Bake 15 minutes, until just fork tender.
Cook sausage in a heavy skillet over medium heat until brown and slightly crispy. Set aside.
When water is boiling, add pasta and cook for 5 minutes. Drain pasta and place back in warm pot.
Add diced butternut squash, asparagus, chopped onion, garlic, red pepper flakes, mushrooms and anchovy to pasta. Mix well and pour mixture into a baking dish.
Pour heavy cream, broth and lemon juice over pasta, give it a good stir and top with Italian sausage and cheese.
Cover with foil or lid and bake at 400°F for 30 minutes.
Uncover and broil until cheese is brown and bubbly.
Remove from oven and let sit, lightly covered for 2–3 minutes before serving.
---
Thanksgiving Quinoa & Sweet Potato Casserole
This festive casserole has all the flavors of Thanksgiving: fresh sage, sweet potatoes, cranberry relish and nourishing broth … and is completely gluten-free, dairy-free and vegan, so it is perfect to accommodate a large group of people with different dietary needs.
From
Nosh and Nourish
Ingredients:
16 oz. Frozen fire-roasted sweet potatoes
1/2 Red pepper, cut into chunks
2 Tbsp. Extra-virgin olive oil + 3 Tbsp. Water
1 cup Chopped walnuts
2 cups Organic quinoa, cooked
1 13.5-oz. can of Sprouts Coconut Milk
1/4 cup Cranberry sauce
1 cup Veggie broth, or sub chicken broth
1 tsp. Fresh chopped sage
1/2 tsp. Dried thyme
1/2 tsp. Sea salt
1/2 tsp. Black pepper
1/2 tsp. Onion powder
 Instructions:
Preheat oven to 375°F.
In a large skillet, over medium heat, combine the olive oil, water, frozen sweet potato chunks and red pepper. Cover and cook for 12 minutes or until all of the water is gone and potatoes are softened. Stir periodically.
In a large mixing bowl, combine all other ingredients: walnuts through onion powder.
Grease a large casserole dish with either coconut oil or non-stick spray.
Transfer the potatoes and peppers to the casserole dish, lining the bottom evenly.
Pour the quinoa/walnut mixture over the top.
Cover with aluminum foil and bake for 30 minutes. After 30 minutes, take the casserole out of the oven and stir the contents thoroughly. Put the casserole back into the oven (uncovered) for an additional 30 minutes.
When it's done cooking, it should not be soupy and the top should be lightly browned.
Serve with additional fresh sage and/or cranberry relish.
---
Deli-Sandwich-Style Sliders
Sliders are a great option for hungry guests! Made with Sprouts Hawaiian Sweet Dinner Rolls and topped with freshly cut deli meats and sliced cheeses, they are the perfect cross between a traditional deli sandwich and finger food. Serve with Sprouts Organic Steak Fries and you're sure to see some smiling faces!
From
Mama Harris' Kitchen
Ingredients:
1 Tbsp. Extra-virgin olive oil
8 oz. Sliced baby bella mushrooms
Salt and pepper
1/2 tsp. Worcestershire sauce
1/2 cup Light mayonnaise
1 Tbsp. Sprouts Horseradish Mustard
2 tsp. Sprouts Basil Pesto with Quinoa
12 count pkg. Sprouts Hawaiian Sweet Dinner Rolls
4 slices Sprouts Pastrami
4 slices Sprouts Black Forest Ham
4 slices Sprouts Roast Beef
5 slices Sprouts Sliced Swiss cheese
5 slices Sprouts Monterey Jack cheese
1 cup Sprouts Baby Spinach, shredded
1/4 cup Sprouts Organic Spicy Sprouts
4 Tbsp. Butter
5 cloves Garlic, minced
1 tsp. Parmesan cheese
1 tsp. Dried parsley
Salt
Preheat your oven to 350°F.
Add the olive oil to a medium sauté pan, then add the mushrooms. Once the mushrooms begin to brown and soften, season with salt, pepper and Worcestershire sauce. Mushrooms will be fragrant and soft, remove from heat and place in bowl to cool.
Combine the mayonnaise, horseradish mustard and basil pesto with quinoa and mix well.
Keep the rolls connected and cut them in half with a serrated knife to create a top and a bottom portion. Don't tear them apart individually.
Line a 9×13-inch dish with foil and place the bottom portion of the rolls in the middle of the pan.
Spread the mayonnaise mixture across the top of the bottom half of the rolls. Layer the meats on top, then the cheese. Tear the fifth slice of cheese in half to allow all of the cheese to lie flat across the sliders.
Top with spinach, mushrooms then sprouts. Replace the tops of the rolls.
Melt the butter in a microwave-safe dish, then add the minced garlic, Parmesan, parsley and salt. Mix well and brush along the tops of the rolls.
Cover the dish with another layer of foil and bake in the preheated oven for 20 minutes.
Remove the top layer of foil and bake another 3–4 minutes, until the bread is golden on top.
Remove from dish, cut into individual sliders and serve immediately. Enjoy!