Fuel your best life!
Whether you're sitting at your desk, chasing the kids around or just enjoying the day, we've all experienced that sudden "I need a nap" feeling out of nowhere. What causes this? And what can you do to avoid it? For a lot of people, that sudden feeling of exhaustion can be related to low blood sugar levels. Most of our energy levels throughout the day are directly tied to our blood glucose, aka blood sugar, levels. Rapid changes in your blood sugar, both up and down, can leave you feeling like you need a nap.
Balanced meals and snacks with the right foods, can help prevent this. A blood sugar-friendly meal or snack should have three things:
All three of these things act as buffers on your body's blood sugar after you eat. They prevent blood sugar spikes, and the inevitable crashing feeling afterward. They also help keep you full and satisfied for a longer period of time. After we eat, our food goes to our stomachs and takes anywhere from one to four hours to be moved into our small intestines. Low-fiber carbohydrates get processed the quickest and can cause some rapid blood sugar rises. When you add protein, fat and/or fiber to a meal or snack, the speed at which your body digests your food slows down—which is great for blood sugar control! Slower digestion means we feel full and energized longer, and provides our body with a steady supply of nutrients.
Here are 7 tips to avoid a blood sugar crash:
Tip 1. Eat breakfast
Skipping meals, especially breakfast, can cause hunger and satiety-related hormones to get out of balance, which also means blood sugars start to be less stable.
Tip 2. Eat consistently
It's important to feed yourself at consistent times throughout the day. There's a reason our GI tracts, energy levels, and overall health can get out of whack when we aren't in our routine.
Tip 3. Eat similarly-sized meals
Try to avoid having a small breakfast, medium lunch, and large dinner (like a lot of Americans do), and you also want to avoid the opposite (a large breakfast and so on …) Ideally, to keep blood sugar levels stable and prevent a big rise, and subsequent big fall, all of your meals should be about the same size/same amount of food.
Tip 4. Eat every four to six hours
Don't go more than four to six hours without eating. This is very much related to number two above, and means you should plan ahead. Maybe you know you'll be running between meetings at work, or out running errands and won't be headed back home. Either way, if there's a chance you're going to have to go a long time between meals, it's definitely wise to pack a snack.
Tip 5. Keep snacks handy
Keep high-quality, quality plant-based fat sources with you for when you're on the go. As I mentioned above, fat takes longer to digest and helps keep us full longer. It also keeps blood sugars stable by delaying the release of carbohydrate from our stomachs. Great choices include:
Nut butter packets
String cheese
Avocados
Pumpkin seeds
Nut and trail mixes
Tip 6. Try not to eat carbohydrates by themselves
Pairing a carbohydrate source with a protein or fat source will keep you fuller longer, and help keep blood sugar levels stable. Instead of eating an apple or crackers by themselves, try pairing either with peanut butter or cheese for added fat and protein.
Tip 7. Choose higher-fiber carbs
Just like fat and protein, fiber slows down digestion, which as you know helps blood sugars stay steady. Some easy swaps are:
Crackers and bread made with whole grains instead of white flour
Bean-based pasta instead of white-flour pasta
Adding nuts and seeds to salads and sandwiches
Load up your next pizza with veggies
Now that you know some of these basic tips for avoiding blood sugar swings, you're prepared to tackle the day with a steady supply of energy. If you're curious about learning more, seek out your health care provider for more information.
---
Please note:
 The information contained in this article is not intended to treat, cure, or diagnose any medical condition and should not be treated as such. Please seek out your physician or dietitian before making changes to your diet.
---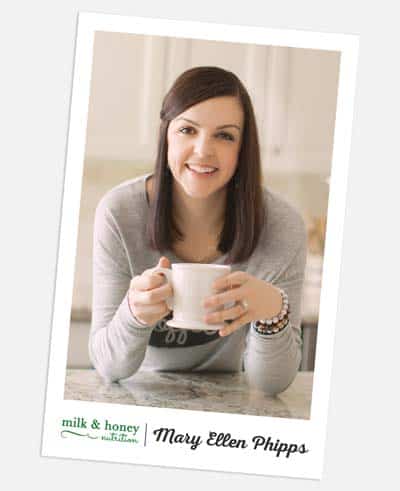 About Mary Ellen
Mary Ellen Phipps, MPH, RDN, LD, is the Registered Dietitian, mom, food blogger and recipe developer behind milkandhoneynutrition.com. She's also a type 1 diabetic and firmly believes food should bring us joy, not stress. Mary Ellen makes healthy eating easy, realistic and most importantly … fun! Visit her website and you'll find yummy low-sugar, diabetes-friendly recipes the whole family will love … as well as helpful tips and a little mom humor.