Stocking a Diabetes-friendly Pantry
Having a grocery store like Sprouts close by is a huge blessing to anyone looking to manage their diabetes. Not only do they offer inexpensive pantry staples, perfect for someone looking to stock a diabetes friendly pantry, but they also educate and train their staff to be able to answer general questions you may have about the products they sell. I've got 37 staples for stocking a diabetes-friendly pantry that will make life easier and more efficient. Make sure to check out your local Sprouts for these items!
Oils, Vinegars and Condiments
Oil, vinegar and condiments are a great way to add flavor and depth to an otherwise bland dish—without adding carbohydrates, sodium or preservatives—but you have to know which ones to pick.
Avocado oil
and
grapeseed oil
, are two versatile oils. They're great for high-heat cooking and both have a smoke point of at least 450°F.
Extra virgin olive oil
is great for homemade salad dressings and marinades for lower-heat cooking. All three oils offer those good fats recommended for people with diabetes.
Balsamic vinegar
and
red wine vinegar
are great to have on hand for homemade salad dressings and marinades. Some preliminary research has also shown vinegar to be effective in managing post-meal blood sugar levels. When shopping for condiments, try looking for
avocado oil mayonnaise
,
unsweetened ketchup
,
low–sodium mustard
and
salsa,
as well as
low-sodium tomato sauce
and
vegetable broth
.
Spices and Little Extras
Diabetes and hypertension are often diagnosed simultaneously. It's important to keep sodium low when cooking, 
salt-free spice blends
are a great way to do that.
Pickles, olives 
and
sun-dried tomatoes
are low-carb (though some are high in sodium) options when your blood sugar may be high or medications warrant a lower-carb snack.
Grains, Cereals and Breads
Quinoa
can be a nutritious rice replacement. It has more fiber and protein making it less likely to spike blood sugar levels.
Pasta is hard for many diabetics. It usually results in a blood sugar spike, even with whole-wheat varieties.
Bean-based pastas
are ideal for diabetics offering more protein and fiber than traditional pastas.
Steel cut oats
and
barley
are other higher-fiber, lower-glycemic grain options. Higher-fiber grains like
popcorn, high-fiber cereals
,
whole-grain crackers
and
low-sugar granola
make great snack options when paired with a protein or fat source.
Sandwich rounds
are perfect for making sandwiches. Most varieties are thinner than traditional sandwich bread making them more blood sugar friendly.
Beans and Legumes
Canned beans and lentils offer plant-based protein and fiber, and are great for diabetes-friendly meatless meals. Make sure to look for lower-sodium options.
Nuts, Nut Butter and Seeds
Almonds
and
walnuts
are both higher in omega-3s than other nuts and make for great snack options for diabetics.
Pistachios
, though not as high in omega-3s, are one of the lowest calorie nuts making them better for weight management. Both
peanut butter
and
almond butter
offer healthy fats and protein—great for topping toast or adding to a yogurt bowl. Some research has shown,
pumpkin seeds
are effective in lowering blood sugar levels for people with type 2 diabetes. One theory suggests their high magnesium content may be responsible for this.
Chia seeds
and
hemp seeds
are high in fiber and protein. They're great for adding a little crunch to everything from yogurt bowls to salads and baked goods.
Shelf-Stable Protein
Canned tuna
is great for making quick, protein-rich lunches. Make sure to look for varieties packed in water and low in sodium.
Low Blood Sugar Treatment Options
Unsweetened apple sauce
and
no-added-sugar juice boxes
are perfect shelf-stable, low blood sugar treatment options to keep on hand. Glucose tabs, while effective, are not the most appetizing things, nor are they easy to eat. Apple sauce and juice are easy to consume and raise blood sugars quickly.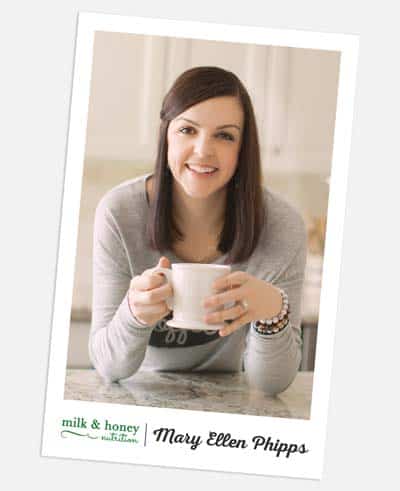 About Mary Ellen
Mary Ellen Phipps, MPH, RDN, LD, is the Registered Dietitian, mom, food blogger
,

and recipe developer behind milkandhoneynutrition.com. She's also a type 1 diabetic and firmly believes food should bring us joy, not stress. Mary Ellen makes healthy eating easy, realistic

,

and most importantly … fun! Visit her website and you'll find yummy low-sugar, diabetes-friendly recipes the whole family will love … as well as helpful tips

,

and a little mom humor.