Salt, in moderation, is a necessary mineral that helps to regulate and maintain normal fluid balance in the body. But, with the overload of convenient, salt-laden processed foods and easy-to-order, takeaway options, salt can be more harmful than beneficial, because we may be consuming too much of it. The good news is there are simple swaps to help cut down on sodium in your diet!
Natural goodness
Fresh and frozen produce are great ways to cut down on the salt; they're filling, nutrient-dense, and–well, they just taste good! If you need to buy canned produce, be sure to look out for "no sodium added."
Meats and meals
When looking for meat, poultry and fish, try shopping fresh and avoid products packed in saline solutions, often used in preserving products and tenderizing. Also, deli meats, cured products and processed items will have higher sodium content, so shop carefully and sparingly. Frozen meals and canned soups can all be processed with tons of salt, but with healthier options available a quick heat-and-eat soup for lunch or mashed cauliflower as a dinner plate side can be warm and satisfying with sodium-free!
Shop the label
Speaking of "no sodium added," you can also look for "low sodium" and "no salt added" when shopping for your frozen faves or pantry staples. Enjoy a rich assortment of creamy nut butters and better-for-you bulk goodness all without the added salt!
Sauce rules
Just because something doesn't taste salty, doesn't mean it isn't. Jarred sauces and dried mixes are often culprits of hidden sodium bombs–so when able, try to make sauces yourself. Season with fresh herbs, spices and salt-free spice blends for flavor. And remember, acid is your friend! So, if you're looking to add some zing to your meal, a squeeze of bold citrus or a splash of vinegar can punch things up without the salt.
---
Shop Now
Share article High-protein on:
---
If you've recently been exploring keto, Paleo or just looking to pack in more protein, Sprouts has a wide variety of high-quality traditional and plant-based options for you! With so many delicious, nutritious innovations happening across the store, you can find protein-powered snacks, meals, drinks and even treats to keep you fueled throughout the day.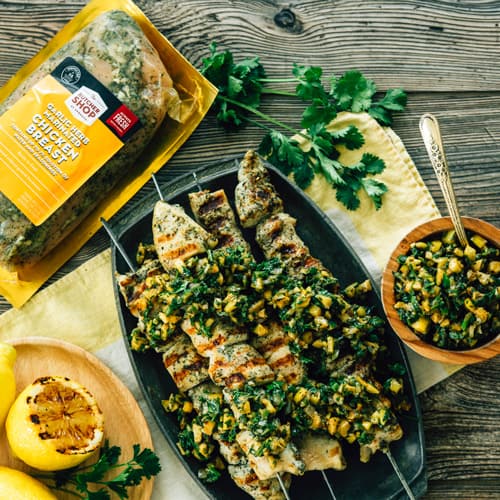 Protein, an absolute necessity
You may know protein as a primary energy source that also fuels the muscles post-workout, but even more essential than that, protein acts as a binder and essential building block for function and growth for our organs, tissues, bones, joints, hair, and skin. Protein also helps rebuild cells to keep our immune system strong.
On the go protein
At Sprouts, we recognize how important getting enough protein is and now, we've made it easier than ever for you to get your fill, with surprisingly delicious options you might not find anywhere else. Save time with nutritious heat-and-eat breakfast bites, meals, and grab-and-go protein drinks! Looking for a power-packed snack? Satisfy your cravings with crunchy chips, savory meat sticks, frozen desserts and creamy yogurt! Plus, unique varieties of bars, supplements and shakes.
Plant-powered goodness
A
plant-based diet
doesn't mean depriving yourself of protein! Now, plant-based pastas, meatless meats and convenient frozen entrees are made with protein-dense beans, wheat, potato and soy. Even if you're looking to swap out a few meaty meals during the week so you can get more plants on your plate, you can feel satisfied with hearty options to keep you full.
Meat your match
At Sprouts, we care about providing the best, high-quality meats, poultry and 100% sustainably sourced seafood to you and your family so you can enjoy nutritious, protein-rich meals and snacks. Explore fresh, organic, non-GMO, USDA choice options right at the butcher's counter or pre-packaged selections that are tender and flavorful.
Keep your eye out!
Products with higher levels of protein often tout the total amount per serving on the front of their package so it's easy to find.
---
Shop Now
Share article Gluten-free Goodness on:
---
Whether you're gluten-intolerant, have celiac disease or prefer to avoid it for other health reasons, you know how hard it can be to shop for unique gluten-free foods. The good news is that Sprouts is dedicated to helping you find all your favorite gluten-free items, and many more! With options like decadent cupcakes, frozen pizza pockets and protein-packed chickpea pasta, we're proud to help make your gluten-free journey as easy (and delicious!) and possible.
Making the switch
Gluten is a protein found in grains like wheat, barley, rye, spelt and kamut. It's part of what gives certain foods their structure and texture. Think about chewy bread or pizza dough—gluten is what creates that texture! If you're looking to cut gluten from your diet, it doesn't need to feel restrictive. There are so many amazing brands and products out there that are creating innovative gluten-free versions of your favorite foods … and Sprouts has 'em!
A simple way to know if an item is gluten-free is by learning to read your food labels and ingredient lists. Start by choosing foods that have a gluten-free certification on them and avoid ingredients like barley, malt and wheat flour. When you're shopping at Sprouts, either online or in-store, we conveniently label items with a "gluten-free" icon or shelf tag so you can easily spot the products you need.
Tips for shopping gluten-free
Preparing a grocery list for your gluten-free diet doesn't have to be a complete overhaul! You might already have a variety of items in your kitchen that are gluten-free like fresh produce, meat, eggs or dairy products, brown rice and corn. However, you may need to swap out your other staples like bread, oats, cereals, crackers, some dressings/sauces and other items with gluten. Sometimes, gluten can be used as a stabilizer, emulsifier and thickening agent in unexpected places like flavoring and spice mixes, frozen foods, candy, sauces and more. So be sure to check your labels to ensure they're free from these additives!
Here's a quick (and clean) list to kickstart your next trip:
Any fresh fruit and vegetables. (Nature's gluten-free treat!)
Brown and white rice
Lentil or chickpea pasta
Gluten-free waffle and pancake mix
Grain-free tortilla chips
Gluten-free crackers
Any unseasoned meat and seafood
Eggs
Oils and nut butters
---
Shop Now
Share article Choose Organic on:
---
At Sprouts, we're dedicated to providing you and your family with thousands of organic items that extend far beyond our farm-fresh produce. From our high-quality meat, dairy and cheese, to our aisles brimming with your everyday meal essentials and delicious organic treats or on-the-go snacks, we have everything you need for an all-organic diet.
---
Organically delicious!
Go all in with organic goodness and explore some of our most nutritious faves to help fill your cart with an easy-to-follow, organic shopping list.



Your Organic Shopping List
---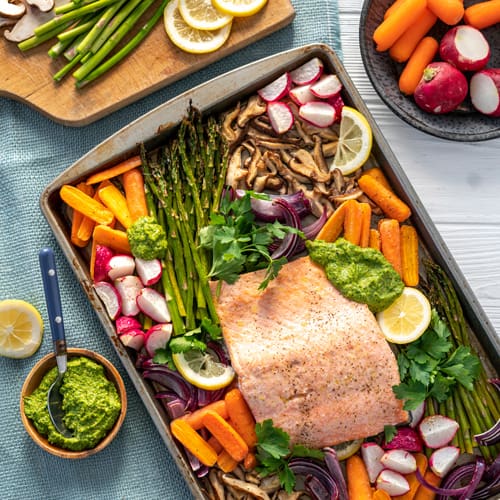 The organic difference
Organic foods are a healthier choice compared to their conventional counterparts because they follow a strict set of agricultural guidelines and standards. This includes avoiding the use of synthetic pesticides and fertilizers, antibiotics and genetically modified ingredients.
Organic items are also produced in a way that helps preserve the environment and natural resources through more sustainable farming practices, helping improve our soil, air and water quality. In order to carry the USDA Certified Organic seal, farmers, ranchers and food processors must go through a thorough verification process by a USDA-accredited certification agency.
Making the switch
Since many of your grocery-list favorites and exciting new items are available in organic at Sprouts, it's easier than ever to make the switch. Next time you make your shopping list, simply swap your staples with organics items. Are eggs, coffee and bread always on your list? Start there! As you shop for more and more organic groceries each week, eventually your refrigerator and pantry will be stocked with plenty of organic goodness you and your family can feel good about.
Here are a few reasons to shop organic:
Organic fruit and vegetables may contain higher nutritional values than conventional ones.
Shopping organic goods can reduce your exposure to synthetic pesticides, antibiotics and GMOs.
Organic farms can help preserve water and soil resources.
Organic products help promote earth-friendly and sustainable farming practices.
Pro tip: Shop in-season!
We're proud to offer some of the freshest, most unique produce items every season. Save time and money on your favorite organic produce items while they're in season by purchasing large quantities and freezing them to use when needed.
---
Feeling inspired? Give these Organic recipes a try!
Crispy Salt and Vinegar Potatoes
Get Recipe
Whole Wheat Farfalle Pesto Pasta
Get Recipe
Easy Turkey & Black Bean Taco Bowl
Get Recipe
---
Shop Now
Share article Discover Plant-based on:
---
---
Whether you're a seasoned, plant-based pro or just beginning your journey, Sprouts has everything you need to fill your plate with plant-powered goodness. We're proud to offer a variety of innovative products to excite your tastebuds like portabella mushroom jerky and coconut milk ice cream, plus all your vegan classics like marinated tofu or Sprouts Vegan Protein Powder. With thousands of vegetarian, vegan and plant-based items available to discover down each aisle, you're bound to dig up something unique every time you shop.
---
Put More Plants on Your Plate™
Diggin' on a plant-based diet? Us too! We've put together a convenient shopping list with some of our most nutritious faves to help make your next grocery trip a breeze!



Your Plant-based Shopping List
---
Power up with plants
Plant-based is more than a buzzword and has gained traction with many health-conscious individuals over the years. The popular movement is more than a diet and encourages folks to reach for more plants with fresh produce, whole grains, legumes and nuts to help fuel your day ahead! A plant-based diet packs a nutrient-dense punch and provides you with essential vitamins, minerals, loads of fiber and plant-based protein.

Good for you and the planet!
The idea behind a plant-based, vegan and vegetarian diet is to reduce or eliminate the number of animal products that are consumed in your day-to-day meals. When your plate is full of healthy, nutrient-dense foods, not only will it help you feel your best, but you can contribute to a healthier environment too. Studies have shown that a plant-based diet can contribute to lower greenhouse gas emissions and reduce land occupation while minimizing soil, air and water pollution.

Sustainable
Preserves water and land
Lower greenhouse gas emissions
Get started
Don't quit all your favorite foods cold tofurky! Making a switch in your diet can be done in small, easy steps to ensure you stick to your new plan. Try these simple swaps in your everyday meals:

Add marinated tofu or meat alternative to your meals instead of meat.
Swap your morning coffee creamer with a nut-based creamer.
Try a plant-based yogurt or a protein bar as an afternoon snack.
Load up on produce
Filling your plate with a variety of fresh produce like fruit, vegetables and potatoes, will help keep you fuller, longer. With the increase in nutrient-dense, fibrous foods, you won't want to reach for those highly palatable snacks that may deter you from your new plant-based or vegan diet. Pro tip: Vegetables like portabella mushrooms and eggplants have a similar texture to meat when cooked and can act as the main component of your dish.


Simplify your grocery hauls
Planning a complete diet overhaul in one swoop could be very overwhelming! Start to slowly replace the items in your pantry and refrigerator with each trip, not all at once. When you shop at Sprouts, we make it simple to navigate the aisles and easily spot which items are plant-based with convenient shelf tags. Plus, we're always on the hunt for the newest, most innovative plant-based and vegan products, so you don't have to be!


---
Feeling inspired? Give these plant-based recipes a try!
Baked Falafel Patties
Get Recipe
Coconut Blueberry Chia Seed Pudding
Get Recipe
Marinated Chickpea Lentil Salad
Get Recipe
---
Shop Now
Share article 5 Seafood Recipes We're Hooked On on:
---
Sear-iously good seafood
Switch up your weekly menu with a delicious seafood recipe! At Sprouts, we're proud to source the best, high-quality seafood from fisheries who are committed to protecting our marine and freshwater ecosystems, and the wellbeing of fishery-dependent communities.
Learn more
about our 100% sustainably-sourced seafood and our in-store Seafood Showcase events to reel in some great deals!
Pan-seared Scallops with Lemon Basil Garlic Butter
Tender scallops are seared to perfection and tossed in a mouthwatering lemon basil garlic butter.

View Recipe
---
Panko-crusted Mahi Mahi Tacos
These Mahi Mahi tacos are full of flaky fish and loaded with pico de gallo, avocado, adobo sauce, a squeeze of lime and cotija cheese.

View Recipe
---
Sesame Seared Ahi with Microgreens and Serrano Lemon Sauce
Seared ahi tuna is a light and refreshing meal to enjoy year-round. Paired with a serrano lemon dipping sauce, it packs just the right amount of heat for an addicting dish!

View Recipe
---
Citrus Salmon Skewers
Salmon skewers are sprinkled with parsley, tangy lemon juice and baked to perfection in under 30 minutes for a healthy meal at home.

View Recipe
---
Miso Glazed Cod with Sautéed Spinach and Onions
Buttery soft cod is sautèed in a spicy-sweet miso glaze and served with soy, ginger, spinach and onions. This one-pan, nutritious dish comes together easily with a few, simple ingredients.

View Recipe
---
Shop 100% Sustainably-sourced Seafood
Share article Delaware Grown on:
---
Farm-fresh Produce
Sprouts Farmers Market partners with local farmers across the country to bring goodness into each of our communities. Sourcing local produce from family-run farms allows us to offer you a variety of unique items every season. We strive to choose farms that promote healthy, clean farming practices in Delaware to bring you and your family the best produce that's full of goodness!
Fifer Orchards
Fifer Orchards is a Delaware Century Family Farm that grows the freshest strawberries locally in Camden-Wyoming, Delaware! In 1919, Charles Frederick Fifer bought 300-acres of land in Kent County and ignited his passion to grow delicious, high-quality fruits and vegetables for the community like tomatoes, sweet corn, strawberries and more. For the last 100 years, the moderate climate and rich soil of the Delaware region has proven to be an ideal environment for growing farm-fresh produce for you and your family to enjoy.
---
Jim Rash Watermelons
Since their founding in 1983, Jim Rash has been delivering the freshest watermelons direct from their farms to our stores! Jim Rash goes above what's expected because that's just what makes sense. Their dedication to honesty and integrity guide them through extensive reviews, trainings and testing processes to ensure the best practice for all of their delicious produce. From the time their watermelons are planted, until the time they're packed and shipped, you can be sure that the team at Jim Rash is growing juicy, nutritious watermelons. Growing watermelons isn't just what they do, it's who they are!
---